Termites Treatments & Warranty
One of the many reasons that Capitol Pest was voted the best pest control company by readers of the Washingtonian Magazine and is highly rated on Consumer's Checkbook and Angie's List, is our customized approach to termites treatment, termite prevention, and termite control.
Since 1936, Capitol Pest has always specialized in termite inspections, termites treatment, and damage repairs. This is why Capitol Pest continues to be a leader in the industry. Our 2 Staff Entomologists and our termite inspectors are always operating under the impression that every home, family, and beliefs are different. That is why we believe in offering all of the latest and best technologies on the market for termite control. This allows our termite inspectors to act as consultants, not high-pressure salespeople, to help you decide which is best for you and keep termites out of your Maryland area home
Which Termites Treatment Does Capitol Pest Offer?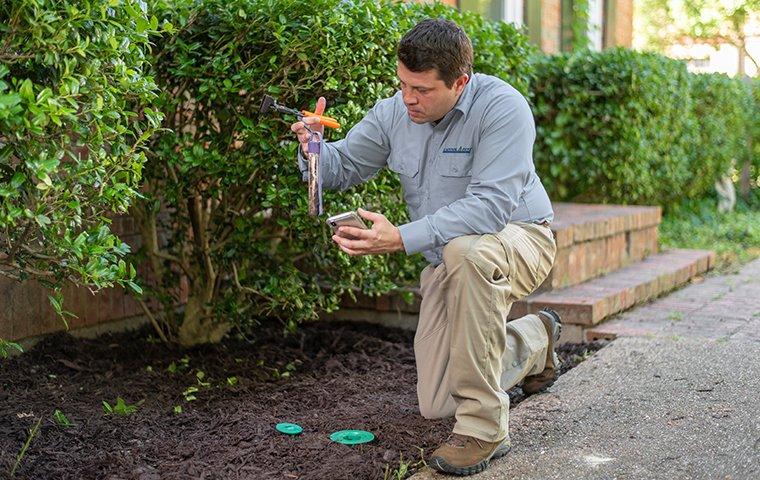 Today there are two distinctly different methods of termite treatments available on the market and we believe that we are offering the best options for both methods of treatment.
Eco-Friendly Termite Baiting
Termite baiting is a method of termite control where bait is placed in the soil around the home as well as in above ground (AG) stations where termites are already feeding inside the structure. The foraging termites take the bait and feed the colony. Over some time, this eliminates the colony and the threat of termite damage. Through the ongoing service of the stations, future infestations are prevented.
Since 1995, the Sentricon® Termite Colony Elimination System has been the leader in termite baiting and provides an eco-friendly approach to termite treatments while providing superior results. We have chosen the Sentricon System for the following reasons:
Provides an Eco-Friendly approach to termite control and is the only termite treatment to win the EPA Presidential Green Chemistry Challenge Award

Has no warning label for humans or domestic animals

Eliminates the termite colony, and with continuous yearly service, continues to detect and eliminate future colonies at the same effectiveness

Is the most tested and proven bait product, with efficacy documented in over 70 published scientific articles and research support from 30 universities and the U.S. Department of Agriculture

With the use of above ground (AG) stations and the newest Always Active™ technology, termite bait is immediately available to termites

Less disruptive than traditional methods

Highly durable and dense Recruit® HD termite bait will stand up to a tough environment for many years

Highly desirable Recruit® HD termite bait is preferred by termites over wood, so they devour it faster than wood, and find it even more desirable as it ages
For more information on why Capitol Pest has chosen to offer Sentricon® with Always Active™ technology and how it works please visit www.sentricon.com. Capitol Pest is a Certified Sentricon Specialist of the Sentricon System.
Capitol Pest's Termite Damage Repair Warranty
Because Sentricon is so proactive at finding and eliminating termite colonies, we almost always include an additional warranty that covers repairs. Here's what is included:
After getting a current infestation to feed on the bait and eliminate the threat, any future discovery of live termites in your home while under our warranty will promptly be treated at no cost to you and we will repair any damages caused by the live infestation less a $250.00 deductible.

A termite certificate for the sales of your home will be provided at no additional cost while covered by our warranty.

Our warranty is also transferable to the new homeowner should you sell your property.

Old damage that is discovered after the treatment date is not covered under the warranty. The presence of live termites dictates new Vs. old damage.
Conventional "Barrier" Termites Treatment
The standard treatment of the termite control industry for over 50 years utilizes liquid termiticides which are applied to the soil in/around your home. The goal is to create a continuous chemical barrier around your home to block all potential routes of termite entry. Termites that come into contact with the treated "barrier" are killed as a result and the structure is protected infestation and termite damage.
Capitol Pest has chosen Termidor® and Premise as the conventional treatment products of choice. These two products have been known as the leading products for termite control since they were introduced in 2000. We have chosen Termidor and Premise for the following reasons:
They are both non-repellant which makes them undetectable to termites. This means termites can't avoid them and will not try to find a way around them.

They both have a unique "Transfer EffectTM" that allows a termite to become a "carrier", transferring Termidor® and Premise to other termites which spreads them throughout the colony.

There is virtually no odor.

While the cost of treatment using Sentricon and liquid termiticides are roughly the same, the ongoing yearly warranty is less expensive with liquid termiticides.

Liquid insecticides can be faster acting at eliminating the termites than Sentricon (depending on many factors)
For more information on why Capitol Pest has chosen to offer Termidor® and how it works, please visit www.termidorhome.com.
A full termite inspection must be performed to qualify for the Damage Repair Warranty. Exceptions to the damage repair warranty include, but are not limited to, homes with inaccessible areas that could not be inspected and other exceptions as deemed by an inspector. Once a home is inspected, the inspector will determine if a home qualifies for the repair warranty.
Bundling with our Gold or Platinum Plans for a Reduced Price
Bundling of our Termite Treatment and Prevention Services are available with both our Gold and Platinum Pest Prevention Plans. For more info contact Capitol Pest today!