Takoma Park Pest Control
When your city is known as Azalea City and a Tree City USA, as is Takoma Park, Maryland, it is obvious that your community takes a great deal of pride in its environment. Capitol Pest understands this pride and shares a similar dedication to protecting the environment.
Many people equate pest control with old-time exterminators and "baseboard jockeys." But when you hire Capitol Pest, you are not only hiring a company that guarantees to reduce or eliminate pesticide use wherever possible, you are aligning yourself with the pest control service provider that has been voted the "Best Pest Control Company" by readers of Washingtonian Magazine, is the highest rated company with 100 ratings or more on Consumer's Checkbook that services Washington DC, has an A+ rating on the Better Business Bureau, and has an A rating on Angie's List.
Home Pest Control in Takoma Park, MD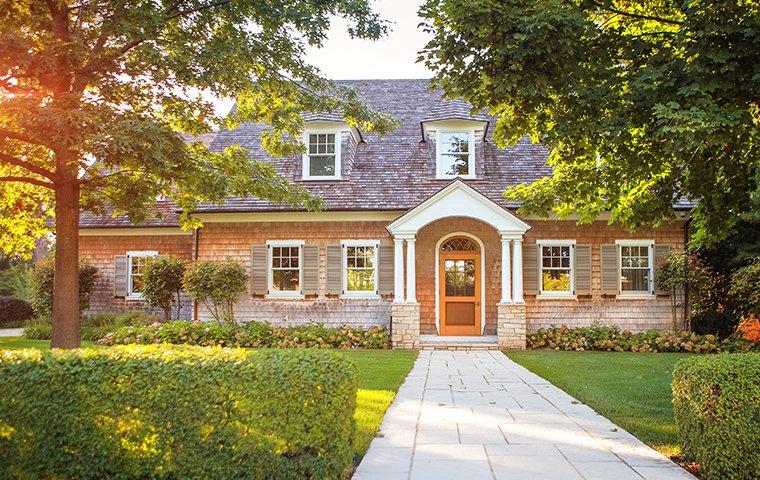 No matter where you live, you never want to experience the headaches and sleepless nights pest infestations cause. Although many residents are proud to call Takoma Park home, many pests live in our area as well and there are quite a few that would prefer to live in your house. To protect your home and family from the disease, danger, and destruction that pests cause, turn to the pest professionals here at Capitol Pest.
At Capitol Pest, we design all of our home pest control services to meet the exact needs of your home and family. No matter whether rodents, cockroaches, ants, or any other pests invade your home, you can count on Capitol Pest to remove them.
Our pest professionals have several years of pest control experience, so you can trust us to get the job done right. We will work with you to find the right solution to your pest problems. Contact us to request your free inspection and estimate.
Commercial Pest Control In Takoma Park, MD
Did you know that even one pest sighting in your Takoma Park business can potentially shut down your company for good? As a business owner, the last thing you need is a pest infestation. Pests damage property, contaminate food products, spread diseases, and disturb your customers and employees. The best way to avoid pest problems in your commercial facility is by putting a year-round commercial pest control plan from Capitol Pest in place. Our certified pest professionals work hard to keep pests away from businesses throughout every season. Some of the industries we provide our top-quality commercial pest control services to include:
Restaurants
Schools
Medical facilities
Warehouses
Hotels
Apartments
Condos
Office buildings
Don't wait for customers to notice pests in your commercial building. Instead, implement a pest control plan for your business today by contacting Capitol Pest.
Environmental Service In Takoma Park, MD
Our mission, and guarantee, is to protect Takoma Park homes and families while protecting the environment by utilizing the latest technology available and employing the best trained technicians.
Capitol Pest also guarantees that we will:
Always strive to provide our customers with the best service in the industry, exceeding your expectations whenever possible.
Continually seek opportunities, with the assistance of our PhD Entomologist, Dr. Russell Travers, to improve our staff's knowledge and expertise.
Utilize the latest technology and techniques to provide the safest and most effective treatments available.
To accomplish this, we never apply pesticides until we have found and solved the root cause of the problem. In many cases, this means that we can work on the outside of your home to reduce the opportunity for pests to get in, thereby, reducing the use of traditional pesticides inside your home to very little or none.
Protect Your Home And Family From Pests
Even with such a strong focus on environmentally friendly service, however, we will always put Takoma Park families and homes first, to ensure that you are protected from unwanted pests and the diseases they can carry, including stinkbugs, mosquitoes, rodents, cockroaches, wasps, spiders, and fleas. For more information contact Capitol Pest Today!
Why Do-It-Yourself Rodent Protection in Takoma Park Isn't Effective
What is protection? The dictionary defines it this way: "The act of protecting or the state of being protected; preservation from injury or harm." How do you protect something from injury or harm? Well, if you're a bank, you hire security guards. These are professionals who are trained to identify a threat and neutralize it. The more experience and training that guard has, the safer your bank will be, right?
If you want to protect a city you a hire a police force. These are men and women trained in law enforcement. They don't just know the law, they know how to subdue individuals and make them submit to it. A highly trained and educated police force with modern law enforcement equipment is effective protection against the many "pests" that roam the streets.
When it comes to keeping rodents out of homes or businesses, you need protection. Rodents are disease and illness spreaders that damage wood and wires and carry in intrusive parasites like lice, fleas, and mites. Laying down a trap or spraying dangerous chemicals is not the way to protect your property, and those who dwell inside.
Protection from mice and rats requires a professional trained in identifying threats and neutralizing them. A technician is educated in the habits and behaviors of rodents. They know where rodents hide and what rodents eat. They are equipped with the latest technology to safely trap and remove all traces of rodent activity. This includes cleansing infected areas.
It is not financially practical to leave a pest technician on watch in your basement, like you might a security guard, but that doesn't mean a pest company can't protect you. They are skilled in sealing exterior walls and closing off entry points. They will also come back and make periodic inspections to be sure that rodent-spread disease, bacteria, and parasites doesn't have a chance to cause sickness.
Do-it-yourself rodent protection is often ineffectual. The materials can be costly, the endeavor can be time consuming, and still leave your property and its occupants vulnerable to harm. Get protection from a professional. You have enough to worry about in a day. Let someone with experience and training worry about those rodents: contact the pest professionals at Capitol Pest for a professional rodent treatment, and take back your home.
Termite Facts Every Takoma Park, MD Resident Should Know
Termites are a silent pest. And often, it is only after damage is done that homeowners discover signs of termites activity. Here are some quick facts every resident in the Takoma area should know:
Termites build mud tubes as tunnels, across unpleasant terrain, to get to their food source. These mud tubes can be free standing straight up into the air. The tallest documented mud tube was 12 feet long from floor to ceiling! It even swayed with every passing breeze.
Formosan subterranean termites, a more aggressive termite living mostly in the south, can search an area the size of a football field, eating any wood they find. One colony can eat up to 1,000 pounds of wood each year.
Termites never sleep.
A termite queen can lay an egg every 15 seconds. Unfortunately, she doesn't get paid overtime.
Termites can enter your home through a crack the thickness of a penny.
Why Homeowners Trust the Sentricon® Termite Colony Elimination System with Always Active™
If a colony of termites is presently in your home, there is a strong possibility that three to four termite colonies are currently around your home as well, housing as many as 1 million termites per colony. They are a formidable opponent and can prove difficult to find and kill. The best way to exterminate termites, in and outside of your home, is the Sentricon System. Sentricon® with Always Active™ installed by a pest control specialist, can eradicate entire colonies of termites. The system is made up of stations set around your home, each with the unique Sentricon bait. This food attracts the workers of the colony. They consume the bait, then return the slow-acting poison to the colony. This poison is given as food to the whole colony, including the queen. There is no fumigation, and no hazard to you or your family.
Ready to protect your Takoma Park home from the threat termites pose? Contact the pest professionals at Capitol Pest today and find out why our comprehensive termite treatment programs are the perfect solution for any homeowner worried about termites.
Common Questions Takoma Park, MD Residents Have About Bed Bugs
If you live in Maryland and hate the idea of being eaten alive by bed bugs while you sleep, now is the time to start getting proactive about protecting your home and your family. Here are some questions everyone in Takoma Park should know the answers to:
How do these bugs spread? This is a hitchhiking bug. Unless you live in an apartment complex, this is not a bug that is going to come into your home through the walls.
What do they hitchhike in? They get into luggage, bags, clothing, bedding, furniture and even electronics.
How do they get in clothing? Bed bug larvae are quite small. They can hide in clothing quite easily. But more often, a bed bug will lay its eggs in clothing. And, since bed bug eggs don't need a mother to hatch, an infestation can start with a batch of eggs in the threads of your favorite sweater.
Where will I pick up bed bugs? You're not going to like the answer to this one. Bed bugs can be picked up in hotels, motels, resorts, cabins, airplanes, trains, buses, taxi cabs, at a friends house, in a movie theater, at a public diner and anywhere that has upholstered furniture.
How do bed bugs live in a movie theater? Many people believe that bed bugs only live in beds or that they only draw blood from people who are asleep. The truth is, these bugs can feed on you while you're awake. They're equipped with an anticoagulant that allows them to draw blood from you with nearly no pain whatsoever. This is also why they can bite you on your face and not wake you up.
Do bed bugs only live in dirty places? Bed bugs prefer dirty places, but they can be found anywhere, even a 5-star resort or the cleanest of homes. These are blood-eating insects. If they can get a blood meal, they will be happy to stay.
Won't I know I have bugs as soon as they start biting me? The bites from larvae are smaller, and often bed bugs won't leave a noticeable rash at first. It can take several doses of the anticoagulant for some people to have a reaction.
Who is most likely to have bed bugs? If you have traveled recently and didn't do an inspection for bed bugs, you could have them. Infestations most often begin with a vacation or a trip.
How can I know if I have bed bugs? Some pest control companies have K-9 bed bug inspectors that are able to sniff out living bed bugs even before they hatch from their eggs. This is the best way to prevent an infestation before it begins.
One final question many Takoma Park residents with bed bugs ask: can I handle it alone? Unfortunately, 99% of the time, the answer is no.
However, don't fret. If bed bugs are biting, you have someone you can call: the pest control professionals at Capitol Pest. Our technicians have years of experience handling bed bug infestations of every shape and size, and our residential bed bug treatments are just what you need to make your pest problem a thing of the past. Contact us today for more information.
Watch Out for Swarming Ants in Takoma Park, MD
There is something just a little unnerving when swarms of flying insects suddenly appear on your property—or worse yet, in your house. A closer look tells you that they are ants - but equipped with wings! Or are they winged termites? As with all pests, the first and most important assignment is to properly identify which pest is creating your problem. Accurate identification always preceded successful extermination.
While swarming ants and swarming termites may look similar at first glance, there are at least three characteristics that will help you determine which insect has just infested your property. Consider the following:
Swarming ants are equipped with four wings, the front pair of which is quite larger than the hind pair.
Their antennae are bent in a 90* shape much like that of an elbow.
They have a very narrow, hourglass shaped waist. The termite has a very broad waist and straight shaped body.
Now that you have determined that your Maryland home has been bombarded with swarming ants, let's discuss swarmers. What are they? A swarmer is a member of the reproductive caste of the ant colony. These male and female reproducers are the future kings and queens of other ant colonies. At the proper time of the year they come boiling out of the nest in large numbers. This huge cloud of insects is referred to as a swarm. This insect mating swarm is also known and referenced as a reproductive flight.
Actually, a sudden appearance of swarming ants is not as problematic as the continual marching of worker ants crawling across your breakfast bar. Swarming usually takes place one day and then they are gone. If you have not previously had ant problems in your house, the sudden presence of a swarm will indicate that an ant nest is not far away but not necessarily in your home. Unless of course, the swarm occurs inside your house.
To find swarming ants in your home and/or the continual marching of worker ants showing up in the kitchen is a strong indication that you have an active ant colony in close proximity of your home that must be treated.
Have you started seeing ant swarms around your Takoma Park home? Don't wait: contact the professionals at Capitol Pest for help. We have years of experience protecting Maryland homeowners from ant infestations of every shape and size, and our comprehensive residential pest control programs can both eliminate any existing ant problems you might be facing while keeping you protected for the future. Contact us today for more details.