What are stored product pests?
Stored product pests are those insects (beetles, moths, and weevils) that feed on or reproduce inside packages of whole or processed grains. They are problematic inside any structure where there are suitable food sources. Examples of stored product pests that live successfully throughout Maryland, Washington, D.C., and Northern Virginia are confused flour beetles, Indian meal moths, grain weevils, and beetles.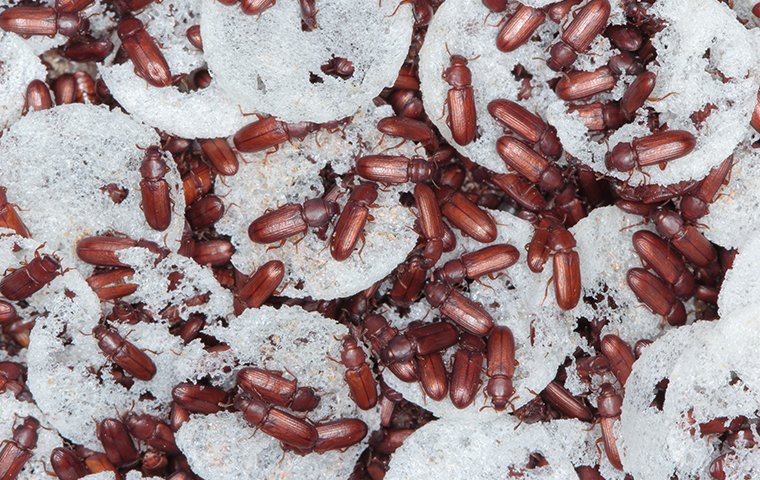 Are stored product pests dangerous?
Stored product pests are not dangerous to people - they do not bite, sting, or transmit disease-causing pathogens. However, stored product pests do cause a lot of damage. They pose a significant risk to our food sources. The larval stage of stored product pests is the stage of development that causes the most damage. After hatching, the larvae feed on the food source they were born in. These pests contaminate food sources, creating a substantial economic loss inside large food storage and processing facilities.
Why do I have a stored product pest problem?
There are a variety of ways that stored product pests find their way inside. Two of the most common ways include:
1. Adults find their way into structures through open windows or doors, torn screens, or openings in exterior walls, initially attracted to a building by its outdoor lighting.
2. Bringing home products purchased from the store that are already contaminated with their eggs or larvae.
Where will I find stored product pests?
Stored product pests live and breed wherever there is a suitable food source. Kitchens, pantries, basements, attics, and closets are all places where these destructive pests feed and reside in homes and businesses. You may also find adults resting on walls, ceilings, or window sills. Stored product pests feed on and damage a variety of things, depending on their species. Common sources of food include flour, cereals, dried pasta, crackers, chocolate, dried milk, birdseed, dried fruits, dry pet food, and cake mixes.
How do I get rid of stored product pests?
If you want to solve your property's stored product pest problems once and for all, turn to the local experts at Capitol Pest. Since 1936 we have been using the latest technology and most effective products to guard residential and commercial properties from stored product pests and other common invaders.
At Capitol Pest, we know pests, and we know how to keep them out of Maryland, Washington, D.C., and Northern Virginia homes and businesses using comprehensive treatments and prevention measures. For more information about our commitment to solving your property's pest problems, contact us today!
How can I prevent stored product pests in the future?
For homeowners who want to keep stored product pests out of their yards and homes, partner with the experienced professionals at Capitol Pest. With the help of our year-round, affordable pest control services and the following prevention tips, your home will become and stay free of stored product pests!
Never buy food from the store with holes or rips in the packaging. If possible, avoid buying dry goods in bulk, including birdseed and pet food.

Remove food purchased from the store from its original packaging and store it in air-tight containers inside the kitchen and pantry areas.

Keep adults from finding their way inside your home by installing weatherstripping around windows and doors. Replace torn window or door screens and repair cracks in exterior walls.

Replace white outdoor lights with yellow or LED lights that are less attractive to insects.