Keep Pesky & Dangerous Mosquitoes Off Your Property
Mosquitoes are well-known for their irritating qualities. They bite any areas of exposed skin, leaving you with itchy welts. They buzz around your head and in your ears, driving you crazy in the process. They swarm as soon as the sun dips below the horizon, forcing you indoors. However, as irritating as they may be, it's their dangerous qualities that are especially troubling. Mosquitoes carry and spread many illnesses, including malaria, Zika virus, West Nile virus, and more. In fact, mosquitoes are so dangerous that they're the deadliest animal in the world. If you have an abundance of mosquitoes on your property, Capitol Pest can help reduce their populations.
Our Mosquito Control Process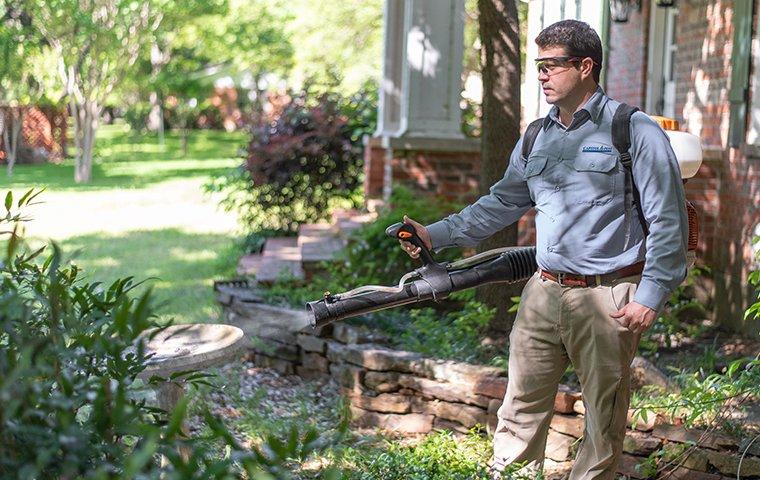 Our mosquito control service is available on a one-time basis or as a monthly service between April and October. Our treatment targets adult resting sites, such as trees and shrubs, other shaded areas, and breeding-site mitigation in order to deliver superior results.
Our highly trained pest professionals use a backpack misting machine to treat areas that target adult mosquitoes, as well as eggs and larvae. We are careful to avoid areas such as edible plants, children's toys, and other sensitive areas, to make it safe for your family. We also work with you to mitigate areas of standing water to reduce their breeding grounds.
Safe & Effective Mosquito Control, Tick, and Fleas Control & Prevention
Whether you need one treatment 2-3 days prior to an outdoor event or would like to protect your family and pets for the entire summer and take back your yard, our barrier treatments for Mosquitoes, Ticks, and Fleas is exactly what the doctor ordered. Our seasonal treatments are performed once per month during the months of April through October in order to stay ahead of the mosquito breeding cycles. Our treatments are not only targeted towards the adult mosquito resting sites like trees and shrubs (like other mosquito companies), but we also focus on all other shaded areas where mosquitoes will wait for you to pass by as well as breeding-site mitigation and treatment to in order to provide superior results. We also include Tick and Fleas control treatments to tall grass and dense vegetation.
How Safe are the Treatments?
This is the question most often asked and it is an important one. The product used to treat mosquito resting areas is applied by our highly trained technicians. The are trained to avoid edible plants, children's toys and other areas that should not be treated. Once the product has dried for one hour, it bonds with the treated areas and remains repellent to mosquitoes for up to one month. Denial of these resting areas where the mosquitoes wait to bite, is critical to protecting your family. Once dried, the only way that your family or pets would be exposed to this product is by contacting it which is highly unlikely based on where we treat. If contacted, these products are actually much less toxic than common mosquito repellents like Deet and other products that are used to repel mosquitoes on our bodies. In short, our treatments are both SAFE and EFFECTIVE.
Protect Yourself & Enjoy Your Backyard Again
Mosquitoes and ticks should not be the reason you can't spend time in your yard. With mosquito & tick control from Capitol Pest, they don't have to be. Our monthly service will eliminate your mosquito and tick problems for seven months out of the year. Or, if you have a special event that requires a one-time mosquito and tick treatment, we can help with that as well. Our professional mosquito & tick control protects you from disease and lets you enjoy your yard again. Contact us to schedule a service visit or to ask us about our home pest control services in the Washington, D.C. area.