The simple answer to the question presented above is that they are just as dangerous as cockroaches in every other city! Why? Because the cockroaches we have in Washington D.C. are the same species of cockroaches that other cities deal with. Today, we're going to take a look at these cockroach species and discuss why they can be dangerous when they get into homes and businesses in D.C.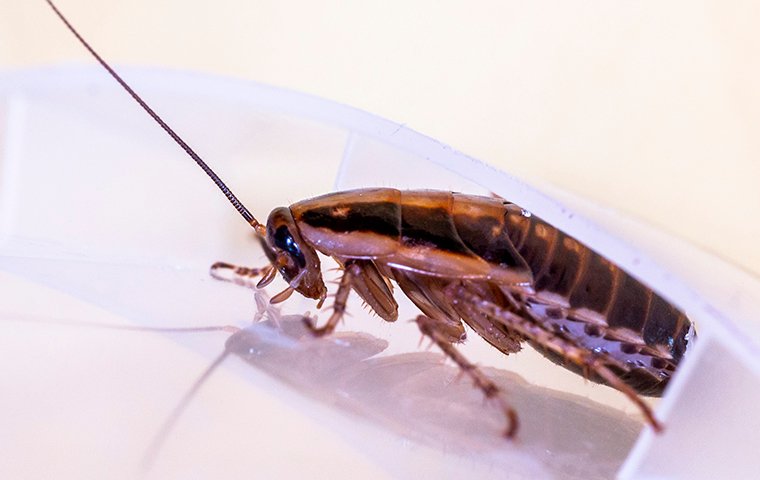 Common Home-Invading Roaches In Washington D.C.
There are three types of cockroaches that tend to get into homes and businesses in the Washington D.C. area. They are American cockroaches, German cockroaches, and Oriental cockroaches.
American cockroaches are the largest roaches that find their way into man-made structures. They are reddish brown and can grow to be as large as 2 1/8 inches in length. They have wings that appear longer than their bodies, six legs, and two antennae. These large roaches love to hang out in warm moisture-filled areas. When they get into structures, they are usually found in basements, kitchens, laundry rooms, or bathrooms.
German cockroaches are much smaller, measuring around ¼ to ⅝ of an inch in length. They are brown or tan and have dark, lengthwise stripes on their heads, which look like an equal sign. These roaches love to hang out in small cracks and crevices in bathrooms, kitchens, laundry rooms, and any other place where there is lots of moisture (though they can tolerate drier conditions than the other roach species listed here).
Oriental cockroaches can grow to be around one inch in length. They are a dark, oily-looking, black color. Like other pest roaches, this cockroach species prefers moist areas and darkness. You're most likely to find them around leaky (or sweaty) pipes, near sewer drains, and in wet basements.
While these roaches may look different, they all love hanging out in filthy places, which makes them dangerous when they get into homes and businesses.
The Dangers Of A Cockroach infestation
Just seeing a roach inside a home or business can be a traumatic experience for some people. But these creepy, hard-shelled bugs are more than just disturbing to look at. They pose some very real dangers to the health and wellbeing of individuals. Here are just some of the issues cockroaches can bring with them when they get into structures.
Studies have shown that cockroaches increase asthma symptoms and hospitalization related to asthma symptoms. This occurs when roaches get into ventilation systems and shed their skins and leave excrement.

There are many stomach illnesses that can arise from exposure to cockroaches. This is because cockroaches pick up harmful bacteria and parasitic worms and transport these organisms on their exoskeletons. They can carry organisms from outside sources such as dumpsters, sewers, dog droppings, dead animals, etc., or interior sources such as trash cans, toilet rims, cat boxes, etc. Cockroaches are attracted to rot and decay. This makes these filthy insects in an urban environment very dangerous.

There are some diseases that can be spread by cockroaches. While disease and illness are somewhat synonymous terms, it is important to understand that cockroaches can carry diseases inside their bodies and spread illness by leaving their excrement in sensitive locations. Studies have found that they are proficient vectors for disease.

While it is rare for cockroaches to bite, they do bite under certain circumstances. When they bite, these bites often become infected by the harmful bacteria on the exterior of the roach. This causes the bite wounds to swell and become inflamed. These bites are most likely to occur around the eyes and mouth.

Fear plays a factor in the health of humans. If someone has a fear of cockroaches, it can lead to many harmful health consequences.

Cockroaches present an economic threat as well as a health threat. When they get into businesses, they can cause food safety audits to fail, tenants to move out, customers to leave, bad reviews, and more.
How Capitol Pest Can Help
Cockroaches and other pests can present a threat to your health and finances. Let Capitol Pest help you stay protected by investing in a residential or commercial pest control plan that meets your specific needs and budget. We have over 80 years of experience providing D.C. residents and business owners the highest level of pest control available. Get started today by scheduling an inspection. We're standing by to help.