Effective Pest Management In Herndon, VA
Temperate weather year 'round in Herndon and warm summer days invite visitors and residents to live in one of the most delightful areas of the country. Guests who are not invited to share in the creature comforts are the pests who find them as appealing as humans do. Without many days of freezing temperatures, pests can take cover and emerge to make trouble for everyone.
Understanding The Area's Appeal To Pests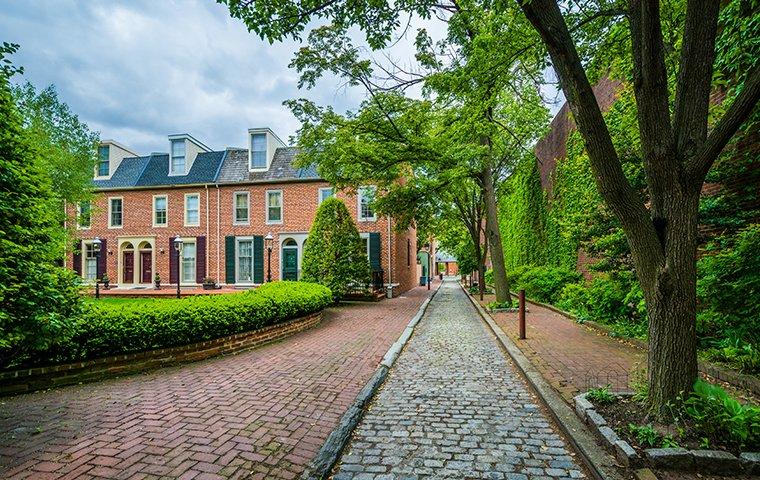 Intent on finding a comfortable place for themselves, many pests inhabit the area. Mosquitoes, ticks, and fleas thrive in grassy plots and make outdoor entertaining problematical. Pets can become carriers as they transport the blood-sucking and disease-carrying pests indoors. Termites and bedbugs create devastating conditions, with one destroying the wood in a home and the other making sleep impossible for homeowners.
While termites are not known as harmful to people, they can destroy wood without attracting attention until it is too late. Bedbugs bite humans and leave a trail of red entry points on the skin and smears on the linens. Rodents are disgusting creatures that can carry viruses and bacteria that cause infections, and there is no place for them in a beautiful Garrett Park home.
Attempting To Cope
Home improvement stores offer remedies that residents may use to rid a home of harmful pests, and the labels often make it look easy. A primary reason that homeowners fail in attempts at pest extermination is that it is a tough and unpleasant task. Pests that bother residents in the 21st century have a successful history of millions of years of survival, and they have the defense mechanisms to prove it.
Do-it-yourself efforts often make things worse by causing a colony to disperse and take up residence in multiple areas. Rats and mice fail to heed the myth that they go outside to die after they eat poison, and a dead one in a home, business, apartment or condo creates a stench that is hard to imagine.
Even though the home improvement store products are ineffective for home pest control, they contain chemicals that are harmful for humans to touch or breathe. Our trained pest control experts study the habits of each despicable creature to know how to eradicate them safely.
Choosing A Professional For Pest Eradication
Our pest control service starts with an inspection of the inside and outside areas of a home to assess the extent of any infestation.
Rodents
The small creatures can enter through surprisingly insignificant openings, and we block each one. Our rodent control treatment on the inside and outside usually eliminates the population in a few weeks.
Termites
The voracious appetite of termites makes them a threat to any home. Our termite control treatment eradicates any infestations, and it includes regular inspections.
Mosquitoes, Ticks & Fleas
Our comprehensive seasonal treatments with safe chemicals attack pest breeding areas once each month during the extended summer season.
Bed Bugs
Our staff includes a biochemist, a zoologist and a Ph.D. entomologist who combine their creative genius to devise effective treatments to eradicate bedbugs.
Residents of the Garrett Park and Herndon areas can find exceptional pest eradication services at Capitol Pest Control.
Herndon's Handy Guide To Effective Cockroach Control
Cockroach infestation poses a real threat to your health. These pests can cause large scale contamination, exposing you to many adverse health conditions. As cockroaches travel through the property, they leave behind germ-infested droppings. This contaminates the air quality, as well as vulnerable surfaces, and food sources. Here are some tips to help you avoid cockroach infestation:
Don't leave any food out, pet food included.

Fix any leaky pipes, faucets, and downspouts.

Keep food in sealed, air-tight containers.

Keep your household appliances clean.

Maintain a clean home that is free from clutter.

Reduce sources of humidity, and excess moisture.

Sweep beneath the stove and fridge.

Take out the trash regularly, and store it outside in a sealed bin.

Use weather stripping around windows and doors.

Utilize dehumidifiers in moisture-rich areas.
For comprehensive cockroach prevention, your best bet is to call in the professionals. Here at Capitol Pest, we're ready to tackle your cockroach problem. Give us a call today to hear more about our cockroach control and prevention services. We'll get you a detailed quote, and get the ball rolling.
Bed Bug Control: What Herndon Homeowners Ought To Know
Bed bugs are nocturnal pests that hide out during the day, and wait until we're asleep to emerge and feed on our blood. No one wants to deal with a bed bug infestation, especially in their own home. As a homeowner, it's important to take the necessary preventative measures to avoid bed bugs from entering your home:
Check all items for bed bugs before bringing them into your home.

Reduce clutter, and maintain cleanliness around the home.

Steam clean upholstery, curtains, and other fabric items.

Use mattress and box spring encasements to prevent any bed bugs from getting in or out.

Wash and dry all linens, bedding, and clothing on high heat.
These tips are helpful, but if you want 100% guaranteed protection from bed bug infestation, you should rely on the pros. Capitol Pest offers thorough bed bug treatments that not only eliminate all present activity, but also help you maintain a space that isn't conducive to a reoccurrence. Call us today to discuss your bed bug control needs.
The Dangers Of Stinging Insects On Your Herndon Property
Stinging insects are arthropods notorious for the venom they carry. They have stingers that they use to inject the venom into their prey. Although we're not their intended target, sometimes we get in the way, making them sense a potential threat. This causes them to sting you, sometimes more than once. Getting stung puts you at risk for a number of reasons. To start, many people have allergic reactions to stinging insects, such as bees and wasps. These adverse reactions can lead to anaphylactic shock, which can be fatal if not treated promptly and properly. However, even if you're not allergic, you can experience a painful sting that can become severely infected. It also causes a dangerous distraction by diverting your attention elsewhere when you should be focusing.
To avoid these threats, you should do everything in your power to keep stinging insects away from your property. However, they can be very hard to get rid of once they make themselves comfortable. It's never a good idea to try and handle the situation on your own, because it's much too dangerous. Professional stinging insect solutions are the only way to go. Reach out to the pros at Capitol Pest for all of your stinging insect control and prevention needs.
Do You Have Fabric Pests Living In Your Herndon Home?
Fabric pests are destructive little critters that can do some real damage to your clothing, linens, bedding, and other fabrics. They feed on material like cotton, linen, rayon, and a slew of other common fabrics. They tend to lay their eggs in wet or stained clothing, and they can be a real problem if not addressed. If you're not sure how to tell whether or not you have fabric pests or not, there are some signs to be on the lookout for:
Beetle or moth larvae found in carpet piles.

Living or dead insects found near windows and door frames.

Shed skin and fecal pellets left around infested areas.

Check air ducts, closets, and cupboards for any visible eggs.

Damage to any fabrics or textiles around your home.
If you think you may have fabric pests in your Herndon home, the best thing to do is reach out to the team at Capitol Pest as soon as possible. We are experienced in identifying, exterminating, and preventing these destructive intruders, and guarantee lasting protection you can trust. Call us today to get started on your fabric pest treatment.