Professional Pest Solutions For Gaithersburg, MD Properties
Whether you live in a rural area or in the middle of a thriving city, pests are a constant part of life. The only way to ensure pests don't cause problems in your Gaithersburg home or business is by partnering with the experienced pest professionals here at Capitol Pest. With over 80 years of dedication to providing effective pest control services, Capitol Pest can keep your property pest-free throughout every season. Get in touch with us today to ask about all of our advanced, innovative, and eco-friendly pest control solutions.
Home Pest Control In Gaithersburg, MD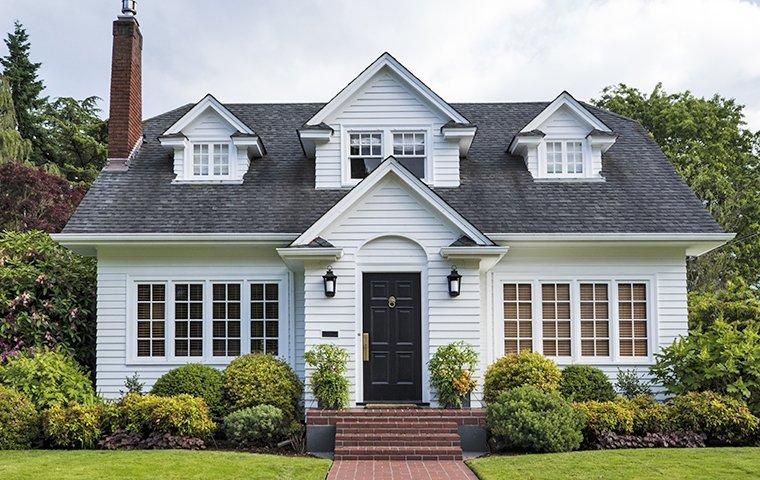 Whether rodents, spiders, insects, or other pests are living in and around your residential property, you can depend on the professionals here at Capitol Pest to provide innovative home pest control solutions.
We offer four levels of pest protection: Bronze, Silver, Gold, and Platinum. All of our home pest control plans are designed to deal with current pest threats and prevent pest activity in the future. Don't allow pests to take over your Gaithersburg home and cause problems for you and your family.
Instead, give a call to Capitol Pest today for help with all of your pest control needs. We're ready to provide a customized solution to any pest control problem you may encounter.
Commercial Pest Control Services In Gaithersburg, MD
Invading pests make it impossible to run a successful business. Even one customer spotting a cockroach, mouse, or fly in your commercial facility could lead to a loss of revenue and a destroyed reputation. However, when you partner with the pest technicians here at Capitol Pest, you can rest assured that your commercial property will be protected from pests of all shapes and sizes. We will develop a customized pest treatment plan based on the needs of your property and budget. Contact Capitol Pest today for the exceptional commercial pest control services you deserve.
Problems Rodents Cause In Gaithersburg, MD
Rodents are small mammals that are categorized by their large set of front teeth that never stop growing. Rats, mice, and squirrels are a few of the rodents that live here in Gaithersburg. As some of the most common pests to invade Gaithersburg homes and businesses, it's no surprise that rodents can cause a wide range of problems when they infest your property. A few of the problems rodents are capable of causing include:
Property damage: Rodents are always gnawing on things in order to wear down their ever-growing front incisors. They can chew on pipes, structural beams, books, furniture, and other items. Rodents will even chew on wires, which can lead to electrical shortages or a fire.

Contamination: Like many pests, rodents carry a wide variety of bacteria and pathogens that can lead to serious health concerns. Rodents may contaminate your food items and counter surfaces as they scamper through your home.

Disease: Rodents are dangerous pests that can spread many dangerous diseases. Some of the diseases rodents spread are tularemia, salmonellosis, hantavirus, and plague.
Rodents have a fast reproduction rate, which means one rodent can turn into many rodents within a few short months. To protect your Gaithersburg home or business from rodents and other common area pests, turn to the local pest experts here at Capitol Pest. We have the equipment, skill, and experience needed to deal with a wide range of pests, including rodents. Don't hesitate to contact Capitol Pest today to learn more about our rodent control process.
DIY VS. Professional Cockroach Control In Gaithersburg, MD
When you own a home in a place like Gaithersburg, there are a variety of pest problems to deal with. However, cockroaches may be by far the most problematic. These invasive pests are not only difficult to control on your own, but they are also very dangerous. Cockroaches will spread harmful bacteria all around your kitchen, meal preparation areas, and your stored food. They will also spread harmful pathogens as they move about, possibly causing allergic reactions in adults and children.
Since cockroaches are afraid of humans and light, they will hide within your walls until you go to bed, so you never really know just how bad of an infestation you have. Armed with a flexible outer shell, these pests will be able to squeeze into the cracks and crevices around your property with ease, so they are difficult to get rid of and even harder to keep out.
That's why relying on store-bought sprays or other home remedies never quite seem to get the job done completely. Fortunately for you, the professionals at Capitol Pest are some of the most experienced and customer-focused service technicians in the industry. We won't quit until your home is completely free of roaches. Give us a call today to schedule your free inspection with one of our residential pest control experts.
What Attracts Stinging Insects To Gaithersburg Backyards?
Stinging insects like bees and wasps are prevalent in the Gaithersburg area. Unfortunately, these pests can be very dangerous in your yard, as multiple stings can lead to harmful medical conditions such as anaphylactic shock and more.
If bee colonies and wasp nests begin to pop up on your property, there is not much you can do on your own to deal with the problem safely. Removing nests with the help of a professional is the most effective bee and wasp control method, but you should never attempt this on your own. Messing with stinging insects' nests is a sure way to incur a dangerous stinging insect attack.
There are, however, a few things you can do to your yard to make it less attractive to these pests, such as:
Trimming back tree branches

Spraying essential oil solutions around the yard

Limiting sources of fruit in the yard

Storing outdoor trash securely
Even though these practices will reduce bee and wasp attraction to your property, there's nothing you can do safely to get rid of these pests once they inhabit your yard. That's why you should call a Capitol Pest technician for a free inspection at the first sign of stinging insect problems. Give us a call today before putting your family in any more danger.
Termite Prevention Tips Everyone In Gaithersburg, MD Ought To Know
Despite their small size and harmless appearance, termites are widely-known as one of the most destructive insect pests in the entire world. Subterranean termites are the most common termite species to invade homes and businesses in our area and are capable of inflicting extensive structural damage to your Gaithersburg property. In the United States alone, termites cost property owners over 5 billion dollars every year.
The best way to avoid termite damage is to keep termites away from your property in the first place. Listed below are a few prevention tips you can use to avoid attracting termites to your Gaithersburg home or business:
Trim your hedges and shrubs away from your exterior walls to allow the sun to dry excess moisture around your foundation.

Use caulk to seal gaps and crevices around your doors, windows, and exterior walls.

Minimize excess moisture by fixing leaky pipes and repairing faulty A/C units.

Get rid of wooden materials such as logs, stumps, old fence posts, fallen trees, and firewood in your lawn.

Contact the professionals for help.
Capitol Pest is committed to providing high-quality termite control services to control and prevent problems year-round. If termites are causing damage in your Gaithersburg home or business, reach out to the licensed pest technicians here at Capitol Pest today for immediate pest control assistance.
Why Gaithersburg, Maryland Residents Don't Worry About Pests
Nicknamed 'Gburg' by the people who live here, Gaithersburg is a town unlike any other. Sometimes called A Character Counts! City, Gaithersburg has some of the most diverse populations in America. More than a third of Gaithersburg residents were born outside the United States, bringing their unique cultures and tastes home to America. Today, the town is known as a hot spot for culture, learning, and the arts. Gaithersburg is an incredibly diverse community, and welcomes people from all places, spaces, and walks of life. However, this town also ushers in a diversity of much less welcomed individuals: pests. Bed bugs, ants, and occasional invaders have been making themselves at home since Gaithersburg was officially established.
If home and business owners plan on remaining safe, they will need to invest their resources in a reputable pest control plan. Fortunately, the award-winning team at Capitol Pest has been providing year-round pest solutions since the 1930s. We continue to uphold our work ethic and industry pride by providing nothing less than the best in Gaithersburg pest control. To learn more about how we protect Gaithersburg property owners, or to inquire about a plan of your own, call us today.
How To Control Nuisance Wildlife On Gaithersburg Properties
Although Gaithersburg is a middle-sized to a large city in Maryland, wildlife species are still very a present threat for both home and business owners. The vast majority of wildlife species are classified as nuisance pests, meaning that they are unable to harm people or their pets. However, it is important to be aware of the other dangers these creatures still pose, including food contamination and the spread of pathogens.

If you are concerned about nuisance wildlife species gaining access to your property, try using these helpful tips:
Eliminate excess vegetation in the yard. Extra growth could be creating new places for wildlife to hide, bringing them close to the house.
Drain all nonessential water sources around your lawn. This includes birdbaths, fountains, and other ponds.
Do not leave any food items outside. If you keep a compost pile, consider turning it more frequently to speed decomposition and discourage wildlife creatures from feeding.
Schedule a home inspection for wildlife species by calling Capitol Pest right away.
Bed Bug Control: Tips For Homeowners In Gaithersburg, Maryland
If you think or know that bed bugs have gained access to your Gaithersburg home, you may be in a very dangerous situation. Although bed bugs do not spread disease or physically maim humans, they are still able to cause itchy bites, insomnia, and even anemia over time.
Keep bed bugs from ever getting established in your home by doing the following:
Wash all clothing on high heat settings after returning from a trip.
Inspect your overnight lodgings for signs of bed bug activity.
Be cautious of where you purchase secondhand goods or appliances. These potential bed bug hot spots should not be unknowingly introduced into the home.
Previously established bed bug infestations can be eliminated with some help from Capitol Pest. Book a bed bug inspection at your earliest convenience today.
How To Avoid Gaithersburg's Occasional Invaders
Not all pests choose to frequently infest Gaithersburg home and businesses. Some pests are only rarely found indoors, especially in northern areas like Maryland. Commonly referred to as 'occasional invaders,' pests like centipedes, earwigs, millipedes, and silverfish are rare encounters in modern living areas. If you do spot an occasional invader running around, there's no need to worry. These pests are classified as nuisance species, and do not post any threats to humans, homes, or pets.
To actively ensure that you are not attracting occasional invaders, do your best to:
Reduce household moisture
Declutter the home
Check the home for cracks, gaps, or entry points
Provide your property with the total protection plan it deserves. Set up an initial appointment with Capitol Pest to establish a residential pest control plan right away.
Here's What You Might Be Doing To Attract Ants To Your Home In Gaithersburg
If you are beginning to notice ants around your Gaithersburg yard, there may be more than one attractant factor at play. If ants are still outside your home, you may be suffering from:
Stagnant compost pile
Excessive outdoor water sources
A large amount of trash, garbage, or food waste
If ant populations are starting to spread inside the home, there may be some other attractant factors at play. These may include:
An abundance of food – either on counters or in crumbs along the floor.
Easily accessible water sources that are creating shallow pools.
Large entry points that have not been sealed properly.
If you cannot properly identify the root of your ant issue, the team at Capitol Pest is ready to help. Simply give us a call to schedule an ant inspection at any time.
Which Occasional Invaders Are Most Harmful To Gaithersburg Homeowners?
Owning a Gaithersburg home means that you have to deal with more than your fair share of pest problems. Unfortunately, around here, we also have to deal with some of the most problematic pests in the industry. These include cockroaches, rodents, ants, and harmful spiders like the brown recluse and the black widow.
Rodents will invade your home with ease and spread dangerous bacteria throughout the property. Ants and cockroaches will also spread dangerous bacteria in your kitchen as they search for poorly stored food and loose crumbs. The two species of dangerous spiders, on the other hand, can inflict harmful venom with just one bite.
While the various dangerous pests that invade your property in The Gaithersburg area are all vastly different, these pests all have one solution in common. If you can reduce pest attraction to your home, the dangerous spiders will not have an interest in your property either. Fortunately, activities like regular cleaning schedules, maintaining the lawn properly, and controlling moisture issues will control bugs and rodents alike.
However, nothing provides a guarantee the way that professional pest solutions can. When your home and family are on the line, put your trust in a Capitol Pest technician who can provide a pest-free guarantee backed by over 80 years of industry and area experience. Give us a call today to schedule your free inspection for pest control on your Gaithersburg property.