What are fabric pests?
In Maryland, Washington D.C., and Northern Virginia, the most common species of fabric pests are carpet beetles and clothes moths. Clothes moths and carpet beetles are a couple of insect species capable of digesting keratin. In nature, clothes moths and carpet beetles live in or near the nests of insects, birds, and other animals where they feed on shed hair, skin, and feathers. However, inside homes and businesses, fabric pests are unwanted because they feed on and damage fabric items and items made of animal fibers or animal bi-products.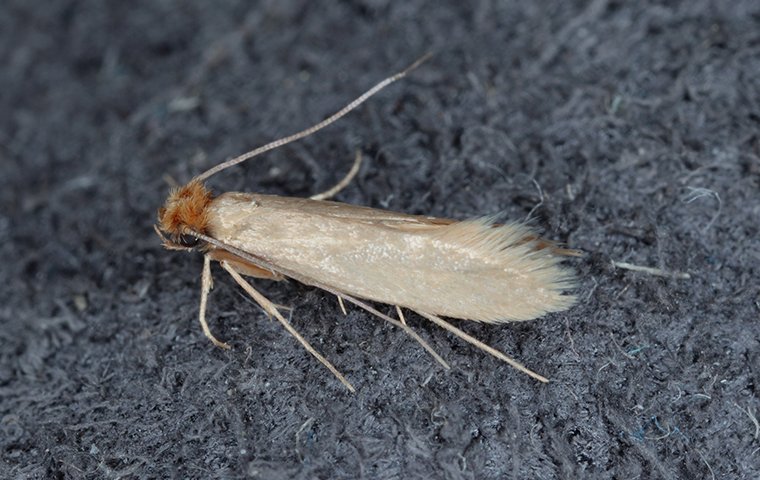 Are fabric pests dangerous?
Fabric pests damage personal property, but they pose no significant danger to people. The immature stage (larvae) of both the clothes moth and carpet beetle causes the most damage to fabric items stored inside homes and businesses. Adults lay their eggs on a suitable food source; then, when the larvae hatch, they begin feeding on and damaging the item. Clothes moths cause costly damage inside museums where fabrics and items made from animal bi-products are stored.
It is important to note that there are bristles that cover carpet beetle larvae, and if they come into contact with a sleeping person, they may cause skin irritation. The rash they cause often causes people to confuse them with bed bugs.
Why do I have a fabric pest problem?
Carpet beetles are attracted to outdoor lighting and enter homes on their own through spaces in exterior walls or around doors and windows. Clothes moths prefer darkness and avoid lighted areas. They are often introduced into homes accidentally in things like potted plants, rugs, furniture, or clothing that has their eggs or larvae already on them.
Where will I find fabric pests?
Basements, attics, closets, and other quiet places are often where these pests live and feed. Areas around baseboards, under upholstered furniture, in clothing stored in closets or basements, and the undersides of carpeting are common hiding spots for these pests. Fabric pest populations can often become quite large before being discovered because they live and feed out of sight.
How do I get rid of fabric pests?
If you want to solve your property's fabric pest problems once and for all, turn to the local experts at Capitol Pest. Since 1936 we have been using the latest technology and most effective products to guard residential and commercial properties against fabric pests and other common invaders.
At Capitol Pest, we know pests, and we know how to keep them out of Maryland, Washington, D.C., and Northern Virginia homes and businesses using comprehensive treatments and prevention measures. For more information about our commitment to solving your property's pest problems, contact us today!
How can I prevent fabric pests in the future?
For homeowners who want to keep fabric pests out of their yards and homes, partner with the experienced professionals at Capitol Pest. With the help of our year-round, affordable pest control services and the following prevention tips, your home will become and stay free of fabric pests!
Seal openings around windows and doors, and repair damaged window and door screens.

Install weatherstripping around windows and doors.

Keep outdoor lights turned off when not needed.

Avoid introducing used furniture, clothing, rugs, and other fabric items into your home.

Eliminate their access to food by storing paper and fabric items in plastic containers with tight-fitting lids instead of cardboard boxes.

Regularly vacuum and dust your home, especially areas under furniture.