Effective Pest Management For Ellicott City, MD Properties
In Ellicott City, Maryland, the summers are warm and humid, and our winters are somewhat snowy. Unfortunately, no matter the season, the people of Elicott City need to be wary of pest infestations. Pests seek shelter and warmth during the colder months and moisture and humidity during the warmer months. The best way to protect your home from pest infestation is to contact the professionals. Capitol Pest is at your service.
We have been providing comprehensive residential and commercial pest control services since 1936, and our expert staff is ready to help you. We protect homes and businesses from common area pests such as ants, cockroaches, crickets, spiders, mice, rats, bees, wasps, silverfish, and many others. Call us today for a consultation. We offer complimentary pest and rodent inspections, including a detailed estimate from one of our certified Capitol Pest field inspectors. We are proud to serve communities in the Metro Washington D.C. area, Maryland, and Northern Virginia.
Home Pest Control In Ellicott City, MD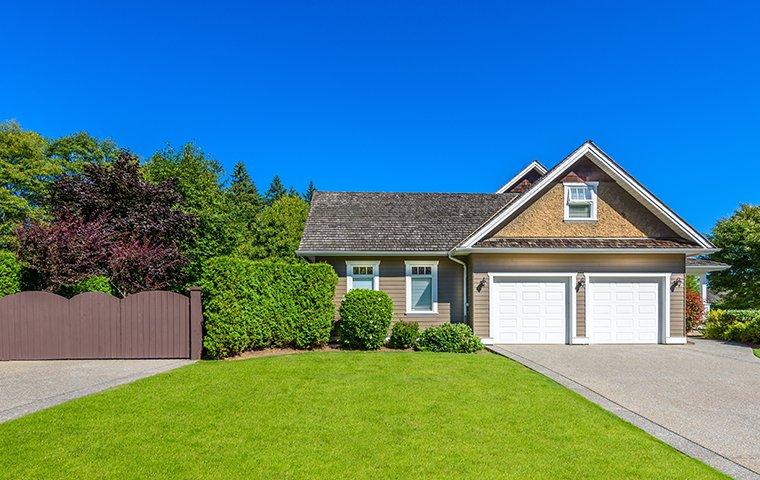 Ellicott City is a beautiful place to own a home, but that doesn't mean it's safe from potential pest infestation. Here at Capitol Pest, we offer a wide variety of treatment and prevention plans that can be customized to fit your needs. Protecting your home and your loved ones is our main priority. Look through our service plans and feel free to contact us with questions.
Rodent Monitoring Service Plan
Mosquito, Tick, and Flea Control Plan (Options I, II, III, and IV)
Bronze Plan
Silver Plan
Gold Plan
Platinum Plan
Each of our four main pest control plans includes outside perimeter treatment, spider web removal, treatment of covered pests, additional visits as needed, and inside treatments as needed. We have one-year service agreements available and we're always happy to work with you to find the best plan for your situation. Our plans cover biting insects, fabric pests, pantry pests, occasional invaders, stinging insects, ants, cockroaches, files, and rodents.
We also offer a Basic SELECT service, which includes a one-time insect treatment and warranty. This covers inspection, identification, and treatment, and comes with a full one-year warranty. Basic SELECT also includes estimates for entry point repairs and other recommended solutions. Contact us today for more information about our residential pest control services and find out which one is a right fit for your home.
Commercial Pest Control In Ellicott City, MD
No matter where you work in Ellicott City, pests in your business means bad news. Capitol Pest offers dependable commercial pest control services that are targeted to fit the particular needs of your business. Our goal is to protect you, your employees, your inventory, your customers, and your reputation. Our commercial pest control services cover:
Apartments & Condos

Office Buildings & Corporate Parks

Hotels & Lodging

Restaurants

Healthcare & Medical Facilities
If you're not sure about our coverage for your particular business, don't hesitate to give us a call. We're always available for a consultation. Our staff is a team of experts that you can count on. We have a full-time zoologist, 2 entomologists, and a biochemist on staff and we provide safe, superior results every time.
5 Rodent Facts Every Ellicott City, MD Resident Should Know
When the cold winter weather comes to Ellicott City, people spend more time in their homes to get out of the elements in an effort to stay warm. It is important to remember this winter that you and your family may not be the only ones trying to stay warm in your home. This is the time of year, rodents like mice and rats, try to sneak their way inside of Ellicott City homes and other buildings to find warmth, food, and nesting spaces.
Listed below are five facts about mice and rats, and the problems that they can create within Maryland homes. Taking the time now to understand these pests and prevent them from entering into your home will protect both your home and family now, and throughout the rest of the year as well.
1. Rats and mice can cause significant and costly damage to homes. They can chew through wires, plumbing pipes, insulation, walls, and flooring. These damages can lead to fires, water leaks, and mold issues. They can also chew through and destroy personal property, like clothing, furniture, pictures, and books.

2. Rats and mice will leave a trail of urine and feces throughout your home. The urine and feces will contaminate countertops, utensils, dishes, cups, and food.

3. Rodents can be difficult to keep out of your home because they can go through very tiny spaces. Rats can squeeze through a hole the diameter of a quarter (1/2 inch), and mice can squeeze through a hole the diameter of a pencil (1/4 inch).

4. Plague, Hantavirus, rate bite fever, leptospirosis, dysentery, and salmonellosis are all examples of diseases that rats and mice can introduce in homes and pass onto people. These diseases can be very dangerous and have the potential to make people very ill.

5. Mice rarely travel more than 30 feet from their nest. They tend to build their nests in close proximity to their food sources. Their nests are usually shaped into the form of a loose "ball" and are made from paper, string, insulation, fabric and other materials that the females gather. Their nests are generally found behind walls, under kitchen appliances- like stoves and refrigerators, under sinks, inside furniture, and in the clutter of stored items.
Signs that mice have decided to room with you this winter may include hearing scratching, tapping or gnawing noises in ceilings or behind walls in the evening. You may also find feces (black and about the size of a grain of rice) in kitchen drawers, along the floors, in cabinets and in closets. Rodents constantly chew so finding chew marks on furniture, rugs, food, flooring, food packaging, and clothing is also an indicator of their presence.
If you see an actual mouse or rat, or just see signs of their presence in your home, professional pest control experts should be contacted. DIY rodent control is not effective and does not address the route of the problem-how the rodents are entering into your home. Professionals have everything necessary to eliminate a current infestation, find and fix the areas of your home that are letting them inside, and then with routine services keep your home rodent and pest free for the rest of the year.
Don't let mice and rats take over your home this winter season get help and evict them today! Contact the rodent removal experts at Capitol Pest and find out why one of our professional rodent exclusion programs is your perfect solution to keep rodents out.
Home Insurance Doesn't Cover Termite Damage In Ellicott City, MD
Purchasing a home is perhaps the largest and most important investment Americans make today. It is the American Dream and while there are some who may be fortunate enough to pay cash for their home, more often than not, there is a financial commitment that encompasses as many as 30 years worth of payments. Nevertheless, whether a cash purchase or a financed purchase, protecting that investment with homeowner's insurance is a must.
While protecting one's home with homeowner's insurance is the most important thing one can do, the second most important thing is to understand what the insurance policy may or may not cover. Unfortunately, there are certain types of damage that insurance companies almost never cover, and damage from termites is one of them. While the only sure way of knowing what may or may not be covered is to personally talk to your own insurance company, it is worthy of noting that one of the things not normally covered is structural damage from termite infestation.
It is estimated that termites cause billions of dollars in damage each year in the United States. Understanding termite activity helps to understand why most insurance companies omit termite damage from their policies. For example, a termite colony consists of a population of destructive insects ranging from a few hundred to hundreds of thousands. These termites work their way inside the wooden structure of the home and, over time, can cause extensive damage requiring costly repairs.
While your homeowner's insurance may not protect you from termite damage, there are several things that can be done. The initial purchase of a home almost always requires a termite inspection. This gives you peace of mind that your home, at time of purchase, is free of termites. There are also many prevention tips available that, when followed, will drastically reduce the risk of future termite infestations. Additionally, it is highly recommended that you have a professionally trained termite control specialist inspect your home periodically to ensure that it stays termite-free.
Want to protect your Ellicott City home from termites and the costly damages they can cause? Look no further than Capitol Pest for help. Using the Sentricon® System with Always Active™, our residential termite treatments can protect your investment not just today but into the future. Call today for more information.
Bed Bug Bites In Ellicott City, MD
Unfortunately, bed bugs are a part of life for millions of Maryland residents every year. If you're warm-blooded, you're going to get bitten by something. So, it is no wonder you've missed the first sign of a bed bug infestation. Did you mistake those tiny little bites for spider bites? It's okay. Many people do. Because they don't realize that house spiders don't typically bite humans. Spiders are a predatory insect that eats other insects. They don't eat blood. Therefore, they aren't interested in biting you.
If you wake up with a big nasty, itchy welt, that may be a spider bite. You could have twitched while you were sleeping and freaked that little spider out while it was crawling over you. But if it was a spider, you'll usually only find a single, isolated bite. Bed bugs bite multiple times through the night. Entomologists jokingly refer to bed bug bites as breakfast, lunch and supper. Those silly entomologists and their bed bug jokes. Silly.
You may have mistaken your bed bug bites as mosquito bites. This is also common. Mosquito bites and bed bug bites can sometimes look similar. Bed bug bites progress. They are small at first because bed bugs start feeding as babies. At this stage, you'll know those bites aren't from mosquitoes, but they will be tiny, and most of the time lack the signature rash that accompanies bed bug bites. Many people don't have a reaction at first. It takes many doses of the anticoagulant bed bugs use to thin blood before larger rashes become evident.
Sometimes those little bites may be confused for gnat or black fly bites. But you can tell by the pattern of bites what type of bite you're looking at. Bed bugs will often bite in a row. Flying insect bites will be more random. So, what bites do you have? If you suspect they are bed bugs, there are a few things you can do to check for bed bugs in your home.
If your infestation has grown large enough, you'll be able to find black fecal residue on the seams, corners and stitching of mattresses and upholstered furniture.
When bed bugs get large enough, you'll be able to see blood stains on your pillow cases or bed sheets.
Large bed bugs will shed casings in your bed.
You may also see these little rust-colored bugs crawling around on your bed, especially if you set your alarm for two in the morning and do a surprise inspection.
Are bed bugs keeping you or your family up at night? Have you started waking up covered in itchy red bites? If you answered yes, it's time to call the professionals at Capitol Pest for help. At Capitol, we have all the tools and training you need to make any bed bug problem a thing of the past. Contact us today for more information about our comprehensive bed bug treatment programs.
Ellicott City, Maryland Trusts No One But Capitol Pest
More than 65,000 people live in the census-designated town of Ellicott City. It is currently considered to be one of the largest unincorporated communities in the Baltimore metro area, with some of the richest history around. Ellicott City is home to the nation's oldest surviving train station, as well as historic milling operations that once took place nearby.
There are some reasons to assume that Ellicott City homes and businesses are free from 'dangerous' varieties of pests. However, even a town as beautiful as Ellicott City faces infestations that threaten the resident's very livelihoods. Roaches, ants, mosquitoes, and even certain species of wildlife are invasive and destructive in areas of human habitation. Even Ellicott City, a town that experiences frequent cold snaps and long winters, is not free from the risks of pest activity.
To remedy their fears and protect their families, hundreds of homeowners in Ellicott City trust Capitol Pest with all their pest concerns. In business for more than 80 years, Capitol Pest makes life tough on pests and easy on homeowners. We care for Ellicott City with several different kinds of pest control options, including residential, commercial, and specialty services. Learn more by submitting an online contact form today.
The Dangers Of Do-It-Yourself (DIY) Wildlife Control In Ellicott City
Possums, raccoons, snakes, and birds are just a few of the most common wildlife species found around Ellicott City. While some homeowners believe they can control population numbers using blunt force alone, this is simply not the case. There are many reasons why homeowners should be nervous about controlling wildlife species on their own. This is especially true of property owners with large entry points or young children.
Here are some of the most prominent dangers of DIY wildlife control here in Ellicott City:
Wildlife species can and will attack when threatened. They may leave bites, scratches, or other physical damages behind. These could cause bleeding or secondary infections.
Many wildlife species, including raccoons and opossums, spread serious diseases. Many of these will need treatment from a trained medical professional.
Property damage due to wildlife activity may result in secondary pest infestations, such as ticks or fleas.
Control the pests in your home with the best defenses possible. Capitol Pest is here for you. Call, click, or visit us in an initial evaluation to sign up for a wildlife control program.
Six Cockroach Control Techniques For Ellicott City Homes
If cockroaches have been coming too close for comfort in your Ellicott City home, there may be some steps you can take to stay pest-free for the long run. Here are six of the best-vetted cockroach control tips for Ellicott City home and business owners:
1. Secure all entry points with waterproof caulking or sealant.

2. Reduce access to food sources by storing everything off the counters, kitchens, and tables.

3. Perform a deep cleaning at least once per quarter. Take care to address the areas underneath appliances, drawers, and cabinets.

4. Eliminate any accessible water sources. Dehumidifiers can relieve air moisture, while home repair will eliminate standing or leaking puddles.

5. Keep the lawn clean, trimmed, and well maintained.

6. Invest in an ongoing cockroach control plan with Capitol Pest.
Cockroach control from Capitol Pest eliminates the need for DIY prevention steps. Get your inclusive residential pest control plan from our team today.
Why Do I Have Ants In My Ellicott City Home?
Ants are a type of pest species that are all too common around Ellicott City homes. Not only are they able to invade almost any property or environment, but they can be very difficult to remove once established.
Not sure why you have attracted ants to your Ellicott City home? We may have some answers:
A large amount of garbage thrown in the yard
Trash stored outside of a plastic bin or bag
Moisture sources in the lawn that support colony breeding
Excessive hiding places in the form of vegetation, flowering plants, or untrimmed shrubs
If these ants have wandered to the inside of your Ellicott City home, there may be much more than just environmental factors at play. In fact, you may be suffering from some well-exploited entry points around the house. Put your ant fears to rest by booking an inspection with Capitol Pest.
Ellicott City's Helpful Guide To Mosquito Control
Ellicott City's mosquito season to projected to be one of the worst yet. To protect your lawn and family, follow these helpful mitigation tips:
Drain all standing water sources outside. These include flower pots, fountains, birdbaths, koi ponds, and more.
Reduce places for mosquitoes to hide by cutting grasses, trees, and bushes.
Interrupt seasonal mosquito breeding patterns by choosing seasonal abatement sprays from Capitol Pest.
Learn more about how Capitol Pest's mosquito abatement programs might work best for you.