Protect Against Viruses
For almost 85 years now, Capitol Pest has been protecting families and businesses from harmful bacteria and viruses carried by pests and transmitted to humans. Our commercial pest control services have been protecting businesses and public facilities against pests and pest pathogens for decades. With the guidance of our Biochemist and PhD Entomologist who researched and worked for many years with pathogens, we are now also focusing on our biggest threat to human life: viruses transmitted from human to human.
Why Is Disinfection Important?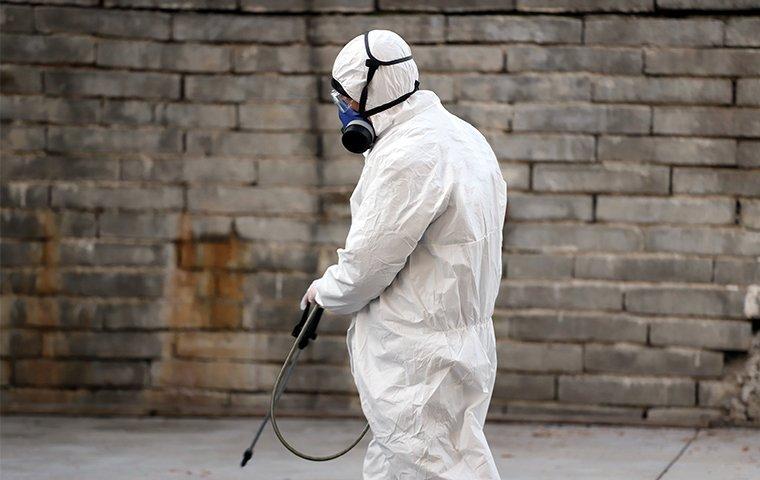 Transmission of a disease-causing virus or a pathogenic bacteria can happen at any moment and are most likely to happen in "high-traffic" situations such as apartment buildings, offices, schools, hotels, restaurants, gyms, elder care facilities, churches, grocery stores, movie theaters, other commercial buildings, and your home.
Disinfecting frequently touched surfaces at your home and/or at work is of utmost importance in reducing/eliminating viral disease transmission. Coughing, sneezing, even the simple act of breathing spreads infectious viruses through the air to environmental surfaces where they can remain for an extended period. Disease transmission from contaminated surfaces is well established with human viral pathogens and is believed to be a significant infection route with COVID-19.
The greater the number of pathogenic disease organisms you encounter, the greater the probability that disease will follow is an irrefutable fact. Initial viral insult (viral load), also known as inoculum size, in viral disease is known to influence the course, intensity, and ultimate outcome of the disease. By greatly reducing/eliminating the presence of harmful pathogens, and the resultant level of viral insult, we can more effectively protect our health and safety.
When someone is infected with a pathogen, the viral load becomes greatly important in our ability to fight that pathogen successfully. In simple terms, the higher the exposure (viral load) the worse the infection may be. For more information on the importance of reducing the initial viral load, see the Centre for Evidence-Based Medicine's studies on COVID-19.
How We Disinfect & Sanitize
We have carefully selected an EPA (N) list product that is labeled to not only kill human Coronavirus which includes COVID 19, but it is also effective against Hantavirus, Hepatitis B, Hepatitis C, HIV (AIDS), many flu strains including H1N1, Herpes, and many harmful bacteria (MRSA, Salmonella, odor-causing bacteria) and harmful funguses like Candida and Athlete's Foot. When applied, this product will kill 100% of bacteria and viruses on most non-porous surfaces. This product is safe for most surfaces; dries and leaves no harmful residue. It is safe to use in all types of facilities, including food establishments, elder care facilities, hospitals, and homes.
Our Process For Disinfection In Washinton, D.C.
Our treatment method differs from facility to facility and is customized for each building's unique features. Our highly-trained technicians will inspect and evaluate each area and choose the option which provides the best possible disinfection:
Misting/Spraying
We apply the virucide using machines that deliver aerosols, mists, and/or spray. These treatments deliver quantities of uniformed very-small droplets that effectively cover all treatment surfaces. Misting and/or spraying thoroughly treats all necessary areas, drying quickly due to the small droplet sizes, allowing re-entry in as little as 30 minutes.
Cloth Application
Areas that are sensitive to misting/spraying are disinfected with a cloth and wipe down procedure. This technique provides a more streamlined approach to disinfection. Some examples are door handles, keyboards, monitors, TVs, and other electronics or areas that cannot be sprayed or misted.
Our Disinfection Guarantee
While we cannot warrant against viral or bacterial reintroduction, we can guarantee that our technician will provide a safe and thorough treatment which will greatly reduce the viral load and greatly reduce the probability of infection. Our procedures are designed to reduce the impact on your home or work facility to its lowest possible level. If you are not satisfied with our service, we will retreat at no charge.
How Much Do Disinfection Services Cost?
You will find that our pricing for this valuable service is very reasonable, extremely competitive in the market, and well worth the investment. We customize our pricing based on the square footage and features of each space. Contact us for a free quote on disinfection services for your facility.
How Do I Maintain A Sanitized Space?
If your home or commercial facility requires regular treatments, but you would like to have yourself and/or your staff trained to sanitize and disinfect all of the necessary areas, we will send our manager to provide the service and also train you and/or your staff at the same time.