Professional Pest Solutions For College Park, Maryland Properties
College Park has plenty to offer its residents. The city is home to two community gardens as well as numerous parks and playgrounds. Residents have access to biking and hiking trails that connect to the Anacostia Tributary Trail System. The region is filled with trees and nature's beauty. When it comes to living so close to nature, it's important to know who to call for pest control assistance. For College Park residents, Capitol Pest is the name to know. We offer pest control services for residential homes and commercial buildings.
No matter what pests you're dealing with, we have a solution uniquely designed to meet your needs. Capitol Pest has been working since 1936, so we have plenty of experience. Unlike many pest control companies, we also have the brainpower and expertise to back up our experience. Along with our specialized technicians, we have a Biochemist, a Zoologist, and two Entomologists on our team.
Home Pest Control In College Park, MD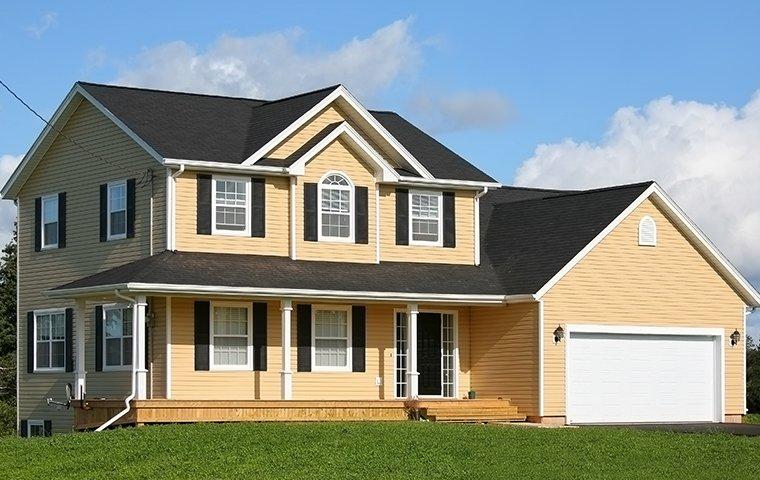 Capitol Pest offers residential pest control services across DC, Maryland, and Northern Virginia. Residents of College Park can take advantage of free pest inspections offered by Capitol Pest. During an inspection, we check for problem areas, entry points, and pest-attracting factors. Then we'll work with you to determine a plan of action.
We offer multiple levels of service so that you only pay for what you need. Our Bronze, Silver, Gold, and Platinum plans come with various additional services for better and more comprehensive protection. Our plans cover thousands of species of pests so that no matter what you're dealing with, we have an answer.
We also offer various levels of service which target individual pests, such as mosquitoes, rodents, termites, and bed bugs. We take a long-term approach and find innovative solutions, such as exclusion techniques, which are safer for you and more environmentally friendly. No matter what pest is trying to get into your home, Capitol Pest can help.
Commercial Pest Control In College Park, MD
Capitol Pest can take care of your professional pest control needs. We're happy to offer pest control services for businesses in nearly any industry, including housing and lodging, office buildings, corporate parks, restaurants, healthcare, and medical facilities, and others. Throughout the process of pest control and elimination, we maintain contact with you. We value strong communication, and we document all our information and strategies so that you're in the know.
Our treatment plans are developed for your unique needs and we truly believe the customer comes first. Our commercial pest control covers pests such as rodents, termites, bed bugs, cockroaches, and more. We begin with an inspection and create a plan for your business. Plus, we offer a 90-day guarantee, so you can rest assured that you will see results from our work.
Signs Of Rodent Infestations In College Park, MD
How do you know there are rodents in your house? Well, aside from spotting a mouse or a rat, there are several signs that will appear around your house if you have rodents. Here are a few of the most common signs of a rodent infestation:
You may see holes in food packaging or food that has been nibbled, gnawed, and eaten.

You'll see rodent droppings, small hard pellets, and you might see or smell urine.

Rodents need to gnaw constantly, so you may see chew marks on furniture and belongings.

You may hear rodents. You could hear them running around the house, moving around in the walls, or chewing on things around your house. You may hear squeaking sounds as well.
If you suspect you have a rodent problem, Capitol Pest can help verify the species of rodents and identify the scope of the problem. Our technicians are also skilled in trades such as carpentry, so they understand the structure of a home. They can quickly determine how many rodents are in your home as well as where they might be hiding and how they got inside.
Our rodent control treatment covers both the interior and exterior of homes. We'll help you seal holes and cracks in the exterior of your home to prevent further rodent entry. We'll also help you safely clean the inside of your home, as well as eliminate attracting factors and rodents who have already gotten inside. There's no reason to live with rodents in College Park. Let Capitol Pest take a look.
3 Things You Can Do To Minimize Mosquito Exposure In College Park, MD
A common pest in College Park is the mosquito. Mosquitoes breed anywhere there is standing water and they nest in dense trees and bushes. Because Maryland has plenty of nature, mosquitoes appear each summer. Luckily, you don't need to be prey to mosquitoes. These pests are frustrating and annoying, but they're also dangerous.
Mosquitoes are known to transmit diseases such as West Nile virus, malaria, Zika, and many others. A mosquito bite is guaranteed to make you itch, but it could also make you incredibly sick. Rather than take the risk, reach out to Capitol Pest for information on how to control the mosquito population around your home this year.
1. The first step toward minimizing mosquito exposure is to get rid of standing water. Standing water can be found in swampy areas, pools, puddles, birdbaths, buckets, even in cans or old toys. If you have a water feature in your yard, keep it clean, and keep an eye out for any items in the yard that might be collecting water.

2. The next step is to get rid of hiding places and nesting sites. This means investing in landscaping: cutting the grass and trimming back foliage. If you have several trees near your house, it's a good idea to have the technicians at Capitol Pest come by to spray the trees and deter mosquitoes from nesting there.

3. Finally, the best way to get mosquitoes off your property is to benefit from our mosquito services. While we do offer a one-time service to help you clear out mosquitoes for a big event, we also offer seasonal treatments. Routine visits will help keep mosquitoes away all season long. Plus, our mosquito treatments also help deter ticks and fleas, and it's safe for your family and for the environment.
Regardless of the pests you're dealing with, Capitol Pest has a solution. Maryland's great parks, trails, and forests make for a beautiful place to live, but they also increase your chances of pest interaction. Let us keep your home and your family safe, with eco-friendly mosquito control treatments and expertise that's sure to impress. Call us today to find out how we can protect your home and business.
College Park Residents' Common Misconceptions About Bed Bug Control
Here in College Park, bed bugs are a year-round issue that all homeowners should be conscious of. There are a lot of rumors out there about these parasitic pests, and it's important to know what's true and what's not. Here are a few common misconceptions about bed bugs:
Only dirty, unkempt homes can get bed bugs. Actually, bed bugs can get into even the cleanest homes. While reducing clutter will minimize potential harborage areas, it is not unsanitary conditions that bring them inside in the first place.

If you get bed bugs, you have to throw out all your belongings. The truth is that your clothing and linens can be thoroughly washed to eliminate bed bugs, and you can also get your furniture cleaned.

Bed bugs only infest the bed. Bed bugs can actually hitchhike from one area to the next, meaning they can easily infest other areas, like sofas and chairs.
The best way to guard your home from bed bug infestation is with professional bed bug control services. Capitol Pest offers complete bed bug control services that identify and eliminate all bed bug activity from the premises, guaranteed. Call us today to discuss your bed bug control needs.
The Importance Of Professional Termite Control In College Park, MD
When termites make their way into your home or business, they cause a lot of destruction to your property. One of the consequences of termite activity is serious property damage, due to the fact that they feed on the structural timbers of your construction. The wood is weakened over time, compromising the structure until it's unsafe for you, or anyone else, to enter.
Aside from the property damage, there are also financial consequences to consider. Termite damage costs you a pretty penny. The NPMA estimate that U.S. property owners spend around five billion dollars in repair and prevention costs. Even scarier is the fact that most homeowners insurance plans don't cover termite damage. The only 100% guaranteed effective way to deal with a termite infestation is to reach out to a team of experienced pest professionals. Call Capitol Pest today to address all of your termite control and prevention needs; we're here to help you.
How To Rid Your College Park Home Of Ants
The danger with ants is that, because of their size, they can fit into the smallest openings to gain access into your home. Once they get inside, they breed quickly and spread their populations, building colonies all over the premises. If you want to prevent ants from infesting your home, here are some tips to help you in your efforts. Seal off entrances, and block off access points, by repairing cracks and crevices along the foundation. Also, be sure to spray an ant barrier insecticide around your home.
Eliminate access to food by keeping food in airtight containers, cleaning up spills and crumbs immediately, washing dirty dishes promptly, and wiping down surfaces to clean up residue and food remnants. It's great to be proactive, but the truth is, none of these methods are completely effective on their own. The most reliable source of ant control is professional pest control services. Get in touch with the team at Capitol Pest today to hear about our ant solutions, and how we can be of service.
Four Effective Tricks To Get Rid Of Cockroaches In Your College Park Home
Cockroach infestation is a real, unsanitary nightmare that no homeowner wants to face. These little critters spread bacteria throughout our homes, and expose us to serious health risks. That's why it's important to be proactive. Here are four ways to prevent cockroaches from entering your home:
1. Avoid leaving any food out, and keep food stored in sealed, air-tight containers.

2. Use weather stripping around windows and doors to prevent entry.

3. Eliminate sources of humidity and excess moisture throughout the property.

4. Keep your property clean, free of clutter, and well-maintained from the inside out.
The most effective protection against cockroach activity is to seek out professional services. Here at Capitol Pest, we offer complete cockroach control services that eliminate all signs of infestation, as well as conducive conditions to keep roaches off your property. Contact us today to learn more.