Keep Cockroaches Out Of Your House
Not many pests are as disliked as the cockroach - and for a few good reasons. They spread diseases, can trigger allergies and asthma attacks, and are incredibly difficult to kill. If you think you have cockroaches in your house, professional control is necessary to eliminate them and keep them from returning. Capitol Pest's cockroach control services provide superior protection against cockroaches.
Our Cockroach Control Process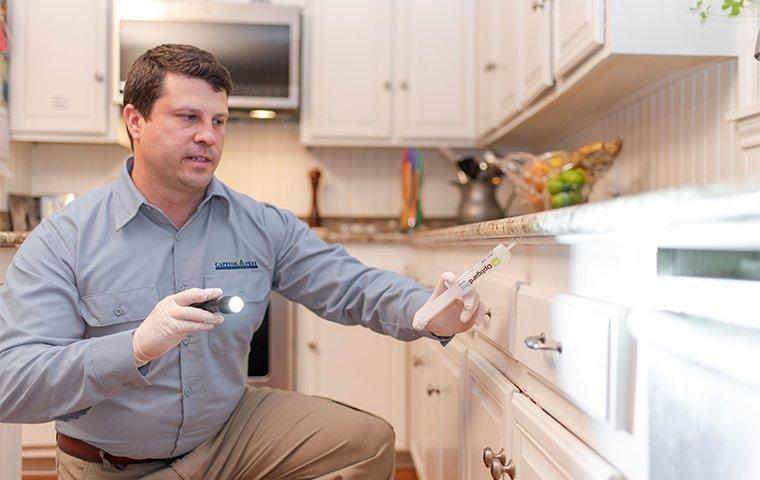 First, one of our licensed pest control technicians will come to your home and inspect your property for cockroach activity. We will look thoroughly through your home for signs of cockroaches and come up with a treatment plan to eliminate the pest.
Once we detect activity, we use a two-pronged approach to eliminate roaches. First, we treat the active infestation. This eliminates the cockroaches currently in your house in all stages of development - from egg to adult.
Though elimination is important, the second prong of our approach ensures that cockroaches won't enter your home again. We apply a chemical barrier around your property to prevent re-infestation in the future. We suggest regular renewals of the chemical barrier for non-stop protection against cockroaches.
Capitol Pest offers a variety of budget-friendly pest control options to keep your home roach-free all year long. We pride ourselves on working with you, your schedule, and your unique problem so that you don't have to worry about cockroaches again. Contact us for more information or to ask how we can help keep your Washington, D.C. area business pest free.
Say Goodbye To The Threat of Cockroaches!
With cockroach control services from Capitol Pest, you can eliminate your cockroach problem and the threat of illness with it. Our two-pronged treatment approach eliminates an active infestation and prevents a future one. One of our local, friendly, and highly trained technicians will work with your schedule to make sure that your home remains pest free. Contact us to schedule a service visit.