Why Do I Have Pantry Pests In My Bethesda Home?
10/14/2020
The pantry is the lifeblood of a home. It's where we store the food that we only need when we need it, so it's disheartening to open a box of rice or noodles and find disgusting pests crawling around inside. Pantry pests are a problem for all kinds of homeowners, and learning how you can stay on top of proper prevention can protect your stored food.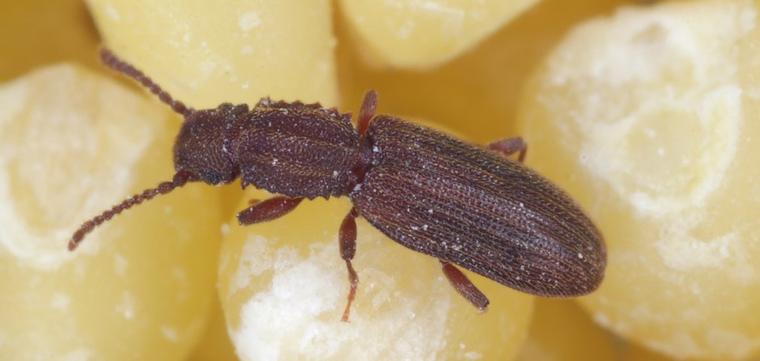 What Are Pantry Pests?
Pantry pests are any kind of pest that specifically targets and infests your cupboards and food storage areas. While this includes a wide variety of nuisance pests, the most common to watch out for are:
Indian Meal Moths: Known for contaminating dry meal and flour, these pests are destructive in their worm form and capable of reproducing as adult moths.

Cigarette Beetles: So-called for their habit of attacking old tobacco packs, these small, brown beetles can also be a problem in the pantry, attacking dry seasoning.

Saw-Toothed Beetle: These brown or reddish pests look like a cross between an ant and a beetle. They also forage for dry food goods.
How Do Pests Get In?
The problem with pantry pests is that they can invade in several ways, some of which are harder to prevent than others. Almost every pest infestation begins outside of the home and is introduced via contaminated items or easy access points. Here are just some of the ways that pantry pests can make it inside:
Windows & Doors: You may have noticed up above, many of the worst pantry pests are ones that can fly once they're fully developed. Moths and beetles can crawl or easily fly inside through open doors and windows, or tears in screens.

Cracks & Holes: Small bugs have many more potential entryways than larger pests, meaning even the slightest crack or hole in the wall can provide access.

Contaminated Items: It's not uncommon for food items bought directly from the supermarket to already have eggs or growing pest populations inside. That's why our habit of storing these types of items can be so problematic -- it gives ample time for these pests to thrive.
Ways To Protect Your Pantry
Because of the ways pantry pests can be introduced to your home, there are crucial steps you should take to lessen your risk of infestation:
Food Storage: Many pantry pests can chew through weak plastic or paper packaging, so it's important to store pantry foods in sturdier containers than what consumer products usually provide.

Food Waste: All the proper food storage in the world won't matter if you leave crumbs or traces behind to attract pests. Deep clean regularly, especially in hard-to-reach areas of your kitchen and pantry.

Inspection: Not only does this apply to the items you buy at the store, which need to be thoroughly checked for signs of contamination, it also applies to your whole property. Let professionals determine your level of risk by scheduling an appointment today.
Don't Take Chances, Contact Capitol
Pantry pests are more than just nuisances, they can cost you your hard-earned money by forcing you to throw away food. While you can help save your groceries with proper household prevention, you should also partner with local professionals who can provide even more advice and assistance. At Capitol Pest Management, our friendly staff is happy to answer your questions and get started on a peace-of-mind inspection of your home. If we spot problem signs, you can count on our methods to quickly and safely address any issues.
Don't wait for pantry pests to grow out of control, turn to Capitol Pest for proper prevention.