Who Else In Bethesda Is Having Problems With Clothes Moths?
4/20/2020
Clothes moths are delicate and clumsy little flying insects that you will find bouncing off of lights at night making them hard to distinguish between other moths and flying insects. But unlike most other insects, clothes moths wreak havoc on fabric. One sure sign that you have clothes moths is finding mysterious holes in your stored fabric. If you have a clothes moth infestation, you will find their larvae chewing up your favorite winter outfits as well as stored blankets, sheets, and towels.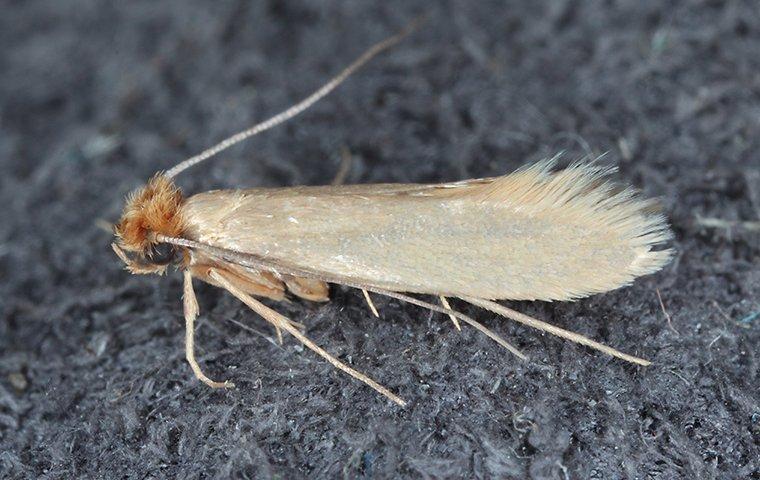 We have at least two distinct types of clothes moths in Bethesda: the webbing clothes moth and the casemaking clothes moth.
The casemaking clothes moth is easiest to identify by its cocoon. Larvae make cocoons that are about 1/4 inch in size, brown to grey in color, and cigar shaped. Once adults, they emerge from their cocoon as a dull cream colored moth that reaches about 1/2 inch in length from wing to wing.
As an adult, the webbing clothes moth looks a lot like the casewing moth with the exception of its glossy wings. Larvae also reaches 1/2 inch in length and is creamy white in color with a brown head.
Clothes Moths Are Hard To Detect
The reason clothes moths are hard to spot may actually be because they are absolutely silent. They move slowly and fly in irregular patterns like a feather in the wind, so they don't draw attention to themselves.
They lay their eggs in dark places and their larvae set out to eat everything from fur coats and down comforters to the wool lining of your favorite winter boots. In most cases, people don't even realize their wardrobe and linen closets have been infested until substantial damage has been done. Luckily, there are certain subtle signs to look for.
How To Check for Clothes Moths
Though these creatures are hard to spot, you can detect their presence by meticulously looking through your wardrobe and stored linens.
Check stored clothing: Look in places where you store fabrics for long periods of time. If you have a stack of blankets, check under each layer and every fold. Look for silky grey or white larvae. Lift the entire stack up and check for fecal material; it will look like pepper on the bottom of the closet or drawer.

Check furs for loose hairs: Clothes moth larvae will stay in close toward the base of your furs, and as they eat the base of individual hairs, they fall off. If your fur coats and throws are inexplicably shedding, you have an infestation on your hands.

Slide through all your closet hangers: Push all your hanging clothing to one side of the closet. Make enough free space on the other side that you can slide back one hanger at a time. Inspect the front and back of each outfit. Look out for any two outfits that cling to each other. If you notice an outfit on one hanger sticking to another, take the garments out and inspect them both thoroughly--inside and out.
How To Prevent Clothes Moths
There are certainly things you can do to prevent moth infestations, but several of the remedies are almost as awful as the moths themselves. What's worse after all, holes in your socks or smelling like mothballs? You likely wont scatter mothballs throughout the entirety of your home to prevent these unwanted pests, but you can check your clothing regularly for signs of infestation. In the end, clothes moths are just one of those tricky and hard to detect pests that are best left to the experts.
How To Handle A Clothes Moth Problem
Moths aren't the only Maryland pests that destroy your clothing and other fabric items. Luckily, we treat everything that does. That said, for people living in Montgomery County, clothes moths can be a real problem, and if you notice the signs, call the experts at Capital Pest Control right away. Our experts can identify whether you have clothes moths or some other fabric munching creature. Whatever it is, we will create a plan that works for you.

If you think you've identified clothes moths in your closets, Capital Pest Control can stop them before they cause serious damage. Capital Pest Control has an in-house entomologist, so if you're not sure, don't hesitate to call us and ask about scheduling your free pest inspection. After determining the extent of your pest problem, the experts at Capital Pest Control will come up with a solution that works for you. Reach out to us today!