How To Keep Commercial Spaces Bacteria Free In Washington, D.C.
9/9/2022
One positive outcome of the pandemic has been the widespread sense of urgency to maintain proper hygiene consistently. From schools to grocery stores to retail chains, all types of businesses and commercial spaces have taken proactive measures to keep their locations clean and bacteria-free. At Capitol Pest, we provide quality pest control in Washington, D.C., including disinfecting services for your facility that kill various viruses, including COVID-19.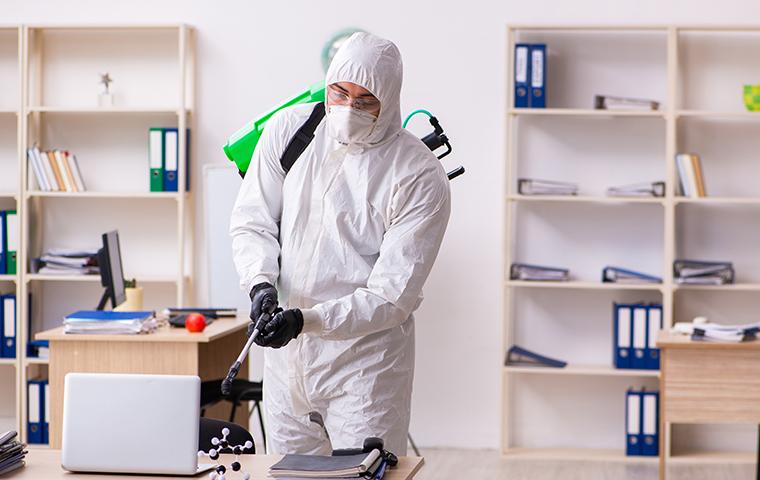 Why Are Disinfecting Services Important?
Although you may be able to spot a bug easily, it's impossible to detect bacterial spores with the naked eye. Enlisting a commercial pest control company that offers disinfecting services is an asset to your business. Take a look at the reasons why professionals should handle this service:
They have a wide assortment of powerful tools.
They use commercial-strength products that ultimately kill bacteria.
They are more thorough, cleaning your facility from top to bottom.
They create a healthier, safer atmosphere for your staff and visitors.
Hiring a company also shows how serious you are about maintaining a clean environment to the highest standard. It also encourages your staff to follow guidelines individually to avoid spreading germs.
COVID-19 Cleaning Services For Commercial Spaces
Despite being taught as a child to wash your hands after using the restroom, COVID-19 prompted a refresher in hygienic practices from government officials and high-profile medical practitioners. What followed were employees at grocery stores, restaurants, and retail outlets regularly wiping down carts, tables, counters, and check-out kiosks. The demand for disinfecting services increased exponentially due to the pandemic. The Centers for Disease Control and Prevention (CDC) set guidelines for companies on how to kill bacteria and prevent the rate of spread adequately. Contact Capitol Pest for assistance with developing a routine cleaning plan and scheduling sanitation services.
Why Public Spaces Should Be Regularly Sanitized
It's a germ-filled world out there, and as such, it's essential to protect yourself to prevent the spread of disease. It's not only up to individuals to do their part, but businesses and public facilities should be just as responsible for keeping their locations clean and sanitized regularly. Certain bacteria can remain on surfaces long after an infected person has touched them. The rate of spread could triple or quadruple if others touch that same area and then touch their eyes, nose, or mouth. Some public locations require more frequent cleaning if any of the following apply:
A poorly ventilated area
A high-traffic area that consists of large amounts of people
No immediate access to hand washing or a hand-sanitizing station
A location occupied by people with compromised immune systems at higher risk for severe illness
Routine cleaning should be a part of every public facility's maintenance schedule. This effort helps stop the spread of viruses, lowering the transmission rate to customers, co-workers, family, friends, and other household members.
Keep Your Commercial Space Clean With Washington, D.C.
If you own a business, protecting your staff is a top priority. Providing a clean and hygienic work environment is part of keeping your employees and visitors safe. Properly sanitizing and disinfecting your commercial space is the best way to effectively wipe out germs and bacteria that can make people sick. That's why enlisting commercial pest control services are the most effective way to prevent the transmission of viruses.
At Capitol Pest, we've spent over 80 years protecting businesses and public facilities from pests and the harmful pathogens they spread. We offer the best commercial pest control in Washington, D.C. Our highly trained technicians use advanced products and up-to-date procedures to leave your place of business bacteria-free. Reach out to us today to request your free quote.