Help! I Need To Keep The Pantry Moths Out Of My Maryland Home
2/25/2022
Pest remediation needs to be a constant for your Maryland home, even if critters aren't visibly running about. Lots of insects and creatures have a reputation for quietly entering domiciles and multiplying at mass. Given that most species are harmful in some way, the fact that they sneak by is unsettling. Many can wreck structures and personal effects, just as many creepy crawlers can distribute germs that cause illness. Believe it or not, there's an entire category of bugs that ruin food called pantry moths.
Indian meal moths are the most notorious pantry pests out there. What's worse is that they can slide by you without being immediately seen. Indian meal moth health risks are significant. Find out more, and learn how to get rid of Indian meal moths with help from Capitol Pest. Avenues for Indian meal moth larvae control are available.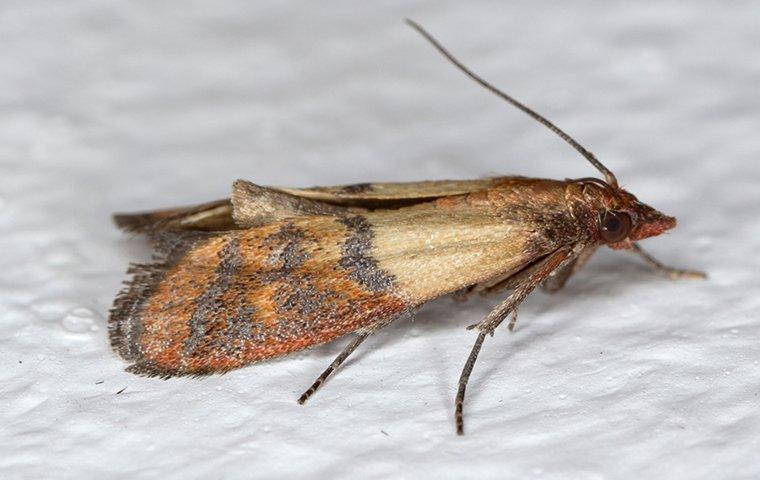 What Do Pantry Moths In Maryland Look Like?
Again, Indian meal moths are the most pervasive of their kind. Part of why it's easy for them to go undetected is that they're a very small 0.37 of an inch long. Their gray-colored wingspan is 0.62 of an inch. One feature that distinguishes them from other moths is the brown or bronze tinting at the bottom. Their flight to various rooms and attraction to dim lighting is how you can tell them apart from fabric pests. The larvae have yellow-green, pink, or cream skin and brown heads. Indian meal moth larvae control is crucial because they are the ones that spoil meals.
How Do Indian Meal Moths Get Into Maryland Homes?
Food factories are often plagued by Indian meal moths, as they'll go into packages on the distribution line and lay eggs. This activity will happen relatively smoothly if an area is especially humid. Once the larvae are born, they will soon begin to feed. Examples of what they consume are:
Flour
Fruit
Spices
Grains
Dry goods
Rice
Pet Food
While Indian meal moth health risks don't include parasites and diseases, the tainting of food by their webbing and fecal matter is still an issue. Moreover, the taste of fare may be altered, and mold growth can be facilitated. You should instantly throw away any items these bugs have infiltrated. Sightings of them or their larvae are a sign of infestation.
Effective Pantry Moth Prevention Tips For Maryland Homes
Indian meal moth prevention must be prioritized. You can't manage or supervise what occurs in industrial units and plants, but you can still take action independently. Retail pesticides or an Indian meal moth home remedy aren't the best options because they don't have the potency to stop an infestation. Further, the usually expensive goods can be hazardous. Regarding solo methods, here's how to get rid of Indian meal moths:
Remove every item from your pantries and cabinets. Afterward, wash out the interiors to sanitize them. Do this regularly.
Inspect your foodstuffs often. Discard anything outdated, torn, or affected by moths. Don't forget to repeat this process for pet meals.
Examine what you find in the grocery store before purchasing.
Close openings in appliances, foundations, and ceilings.
Store fare in glass or plastic canisters that are secure.
The Trick To Total Pantry Pest Control In Maryland
It needs to be reiterated that commercial insecticides and an Indian meal moth home remedy will disappoint you. We at Capitol Pest have stronger industrial-grade solutions that are safe. Our interior and exterior treatments consist of baits, traditional liquid barriers, and more. You can rely on our expertise, as zoologists, biochemists, and entomologists are a part of the staff. We can guide you on Indian meal moth prevention as well. Call today for a free quote!