Get Rid Of Indian Meal Moths From Your Maryland Pantries Once & For All
2/21/2020
One of the most disturbing pests that get into Maryland homes is the Indian meal moth. Why are they so disturbing? Because Indian meal moths rarely come in from the outside. They are carried into a home as eggs inside stored-food products such as cereal, crackers, flour, bread, rice, and more. These eggs hatch into larvae, which live in the food they are infesting. They live in the larval stage for 6 to 8 weeks, and in their pupal stage for 15 to 20 days. When you see the adult moths in your home, it means you have food in your kitchen or pantry that has been infested for almost 2 months – and you may have consumed some of that food. Today, we're going to break down how you can detect and get rid of Indian meal moths and other pantry pests that hitchhike into your home.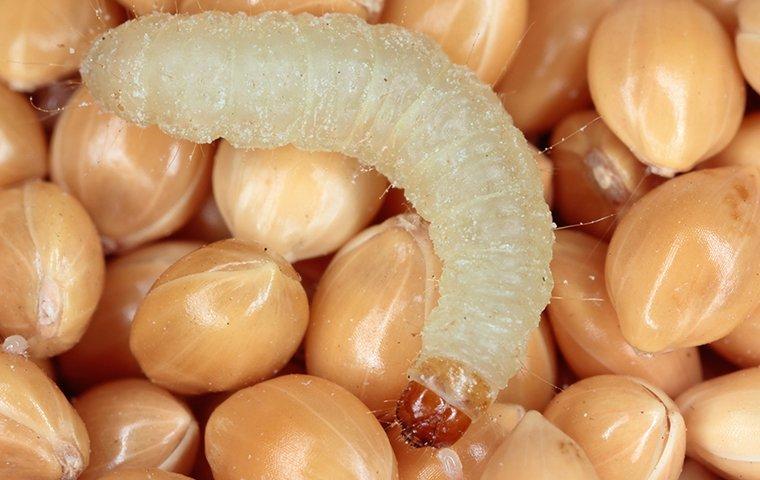 Detection
If you don't ever want to eat another bug again, the best course of action is to put your stored products that come in paper, cardboard or thin plastic, into sealed glass or plastic containers. If you accidentally purchase a product that has eggs in it, you'll be able to see larvae, cocooned pupae, or adult moths crawling around inside and, hopefully, avoid eating them.
Larvae look like tiny worms with legs, and they will be the same color as the food they are eating. Brown rice will have brown larvae and white rice will have white larvae. Cocooned pupae are in very tiny grey web casings that are hard to see. If several pupae are cocooned near each other, it will be easier to see this webbing. Adults are orange and tan moths, which are about 5/8 of an inch long.
Containment
Sealed glass or plastic containers help to contain an infestation. Larvae are able to eat through paper and thin plastic and move from package to package. When you find larvae, cocooned pupae or adult moths in your food, you're going to be really glad you made the investment.
Removal
When you detect pests in your food, whether they be Indian meal moths, weevils or beetles, all you need to do is dispose of the product outside of your home. It is as easy as that. If you don't have your products in sealed containers, the process is quite a bit more work.
What To Do When You Don't Have Sealed Containers
If you find Indian meal moths in a food package, and you have not made the investment in sealed glass or plastic containers, you may be able to resolve your infestation by doing the following:
Put the infested product outside.

Examine all of your stored products and place them in plastic Ziplock bags.

Thoroughly wash your pantry shelves and walls.

Return products to your shelves.
This could resolve your pantry pest infestation. If it does not, or you want to make sure you get all of those pests the first time, reach out to Capitol Pest. One of our licensed and experienced pest management professionals can walk you through the process and assist you with any treatments that are required to get your pest control problem resolved. We use field-tested methods and EPA approved products to successfully eliminate pantry pests. If you have questions or you'd like to request service, schedule a free inspection. We'll send a Capitol Pest Field Inspector right to your home.
Pantry pests are disturbing pests. But they are far less disturbing when you're prepared to deal with them. Consider investing in containers for your pantry foods. And always remember that the service team here at Capitol Pest is standing by to help you with all of your pest control needs.