Professional Pest Solutions For Bethesda, MD Properties
Are Bethesda pests causing problems in and around your residential or commercial property? Are you looking for an effective way to ensure your home or business stays free of pests all year long? If you need year-round pest control to keep pests from invading your property, Capitol Pest is right for you. We train our pest professionals to identify, eliminate, and prevent pest problems around residential and commercials buildings.
We go above and beyond to provide the most advanced pest control services and management methods available. The best way to deal with any pest infestation is to reach out for professional help. With the professionals from Capitol Pest by your side, you don't need to worry about pests coming anywhere close to your Bethesda home or business. Contact us today to learn which of our pest control plans are right for you.
Home Pest Control In Bethesda, MD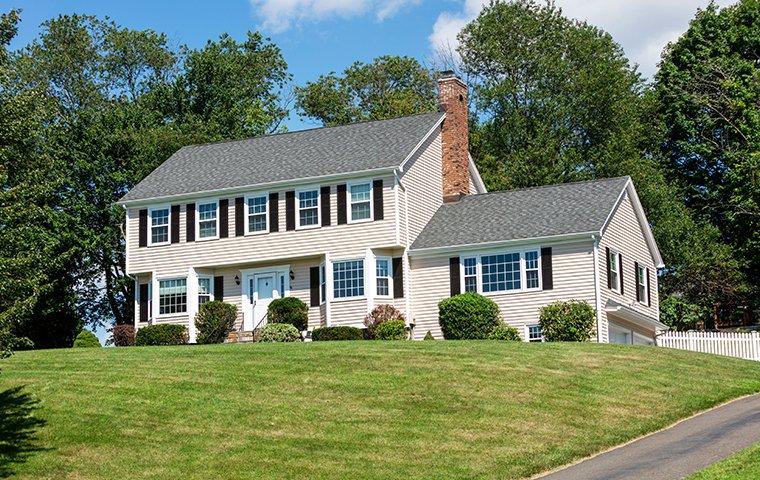 No matter where you live, you never want to experience the headaches and sleepless nights pest infestations cause. Although many residents are proud to call Bethesda home, many pests live in our area as well and there are quite a few that would prefer to live in your house. To protect your home and family from the disease, danger, and destruction that pests cause, turn to the pest professionals here at Capitol Pest.
At Capitol Pest, we design all of our home pest control services to meet the exact needs of your home and family. No matter whether rodents, cockroaches, ants, or any other pests invade your Bethesda home, you can count on Capitol Pest to remove them.
Our pest professionals have several years of pest control experience, so you can trust us to get the job done right. We will work with you to find the right solution to your pest problems. Contact us to request your free inspection and estimate.
Commercial Pest Control In Bethesda, MD
Did you know that even one pest sighting in your Bethesda business can potentially shut down your company for good? As a business owner, the last thing you need is a pest infestation. Pests damage property, contaminate food products, spread diseases, and disturb your customers and employees. The best way to avoid pest problems in your commercial facility is by putting a year-round commercial pest control plan from Capitol Pest in place. Our certified pest professionals work hard to keep pests away from Bethesda businesses throughout every season.
Some of the industries we provide our top-quality commercial pest control services to include:
Restaurants

Schools

Medical facilities

Warehouses

Hotels

Apartments

Condos

Office buildings
Don't wait for customers to notice pests in your Bethesda commercial building. Instead, implement a pest control plan for your business today by contacting Capitol Pest.
How Dangerous Are Mosquitoes In Bethesda, MD?
When you notice mosquitoes buzzing around your lawn, you might not think much of them initially. However, mosquitoes are a lot more dangerous than most people think. In fact, mosquitoes are the most dangerous animals in the world. These tiny blood-eating insects are responsible for transmitting diseases including:
Yellow fever

Dengue

Zika virus

Malaria

West Nile virus

Chikungunya

Dog heartworm

Eastern equine encephalitis

Western equine encephalitis
Although mosquitoes might not seem like a threat due to their small size, it's crucial to understand the impact that they can have on your health.
At Capitol Pest, we care about your health, which is why we offer effective mosquito control and prevention services throughout the months that mosquitoes are most active. Reach out to our pest professionals today to learn more about why you need professional mosquito treatments for your Bethesda property.
Why Bethesda, MD Residents Need Termite Defense
If subterranean termites were feeding on your home right now, would you know it? Unless you can see through walls, the answer is probably no. Unlike most typical pests, termites often go unnoticed by the residents in homes they invade.
When termites come into our properties, they do so by foraging underground tunnels deep under the ground, often forming elaborate networks of subterranean tunnels in your yard. These tunnels are deep enough to leave no trace - you won't see termites coming.
While not being actively bothered by a pest infestation would normally be a comfort, the opposite is true in the case of termites. The fact that you don't see them allows them to chew deep into your home unnoticed, causing extensive damage before you have time to react. This is part of the reason they cause billions of dollars in damages every year in the United States alone.
Termites make detection difficult, even for termite control professionals. That's why, if you want to protect your home, you can't afford to respond to them after they attack. You have to be proactive and find a way to create a protective barrier around your home, stopping termites in their tracks.
Luckily, the professionals at Capitol Pest have the solution: the Sentricon® System with Always Active™.
Sentricon® with Always Active™ works by turning termites' natural behavior against them. When foraging termites find the bait, they let others know they've found a food source by laying down a pheromone scent for other workers to detect. These pheromones inspire other termite workers to come feed on the cellulose that was found.
The termites will take the bait home with them to share with their families, spreading the active ingredient throughout the entire colony - a chemical that prevents them from molting. As it takes affect, the termites will outgrow their shells without molting, dying off in the process.
The Sentricon® system also makes monitoring termite activity easy. After the initial installation, your technician will make regular return visits to check on the bait levels left within each station. He or she will be able to tell whether the termites are taking the bait, and can then work with you to adjust the strategy to protect your home accordingly. If termites have visited your home, your technician will know.
When you have the Sentricon® System with Always Active™ installed, your home will be protected from termites 24 hours a day, 365 days a year. And because it is so easy to detect worker termite activity with this system, you'll never be left in the dark about the status of your home.
If you need termite protection for your Bethesda home, let the termite control experts at Capitol Pest help! We use Sentricon® with Always Active™ to effectively protect residential and commercial structures from destructive subterranean termites. Contact us today to find out more. Simply give us a call and one of our certified technicians will visit your home to install a number of bait stations around your home.
3 Sure Signs Cockroaches Leave Behind In Bethesda, MD
If you've never encountered a cockroach infestation in your Bethesda home or business, consider yourself lucky. Cockroaches are resilient insects that thrive in environments that are warm, dark, and moist.
When they invade your residential or commercial property, they are likely to hide in areas that provide them with the resources listed above. Basements, laundry rooms, bathrooms, and kitchens are all places where cockroaches prefer to hide.
Here are three common signs that cockroaches have infested your Bethesda home or business.
1. Cockroach droppings
2. Shed skins
3. Brown and irregular smear marks
Cockroaches are unnerving in appearance, but the diseases they can carry are even more worrisome, including salmonella, typhoid fever, and more. If you suspect cockroaches are hiding in your Bethesda home or business, don't hesitate to contact Capitol Pest today for professional cockroach control.
Avoiding Stinging Insects in Bethesda, MD
The hot, humid summers in Bethesda help make it a hotbed for wasps, hornets, yellow jackets, and other pesky stinging insects. If you don't take measures to protect yourself, you could wind up covered in painful stings while simply trying to enjoy your yard.
While stinging insects are essential to the environment, serving as both pollinators and natural pest control for many species, they will nevertheless make you miserable if they are near your home. When you have stinging insects in your yard, they can easily become aggressive and territorial, and their stings are both extremely painful and can even cause allergic reactions in certain people.
Unfortunately, stinging insect infestations are often as painful to live with as they are difficult to eliminate. However, there are steps you can take to limit your risk of them invading. Here are some helpful tips you can use to limit their presence around your yard:
Keep the grass in your yard well-trimmed so that it won't collect moisture or give stinging insects places to hide

Trim foliage away from your home

Don't plant any new trees and shrubs near the outside of your home

Seal spaces around doors and windows to keep them out of your home

Install door and window screens

Install screens in ventilation spaces

Replace broken or missing shingles and siding on your home

Have a cap installed on your chimney.
If prevention fails, don't lose hope: the professionals at Capitol Pest have you covered. Contact us today if you're experiencing stinging insects around your home and find out why Bethesda residents trust Capitol Pest for all their pest control needs.
How to Tell If Bed Bugs Have Invaded Your Bethesda Home
Are bed bugs keeping you up at night? If you're like many of the thousands of homeowners affected by bed bug infestations every year, you may not even realize that you have a problem at first. However, as bed bugs are a difficult and annoying pest to deal with, it is essential that you know as quickly as possible when an infestation exists so that you can quickly and effectively treat it.
Here are some common warning signs to be on the lookout for that could indicate the presence of an infestation:
Here are some common warning signs to be on the lookout for that could indicate the presence of an infestation:
Bites are generally the first sign most people notice that makes them realize they have a bed bug infestation. These bites will be itchy, red welts that are usually found in clusters, often in a zigzag pattern. The most common areas to find these bites are on shoulders and arms, since they are exposed while you are sleeping.
Bed bug bites affect different people to different extents but can be very irritating, and can lead to bleeding. Some people will even experience secondary infections due to their excessive scratching.
Stains on your bedding and bed clothing are another common clue bed bugs leave behind to alert you of their presence. These stains will look like tiny maroon dots, and are blood spots or digested blood feces left behind by bed bugs.
Like many bugs, bed bugs grow by molting and shedding their skins. If you've found shed exoskeletons resembling tiny brown ovals on the floors or sideboards near beds and other furniture in your house, it means bed bugs are likely somewhere nearby.
Many people suffering under a bed bug infestation also report a pungent, musky odor around their homes. This smell is from the pheromones that bed bugs release, and in the case of a large infestation, this smell can be overpowering.
Finally, the surest sign that you have bed bugs is finding the bugs themselves. Live bed bugs can sometimes be found on mattresses and box springs. Check around the corners and seams, which is where they are most commonly found.
Keep in mind that bed bugs aren't just "bed" bugs - they can be found in chairs, sofas, curtains, carpets, under beds, by headboards, and behind furniture and wall hangings. Basically anywhere you have furniture of any size, you could also have bed bugs.
Bed bugs are extremely evasive pests that are difficult to eradicate - this is why most DIY attempts fail. DIY methods are often costly, time-consuming, and may even cause homeowners more stress than before by failing to eliminate the entire problem at once, allowing it to come back in full force later on.
Proper treatment from a pest control professional is needed to successfully get rid of bed bugs. If these biting parasites are keeping you up at night, don't worry: call the professionals at Capitol Pest today and make your bed bug problem a thing of the past.