Sleep Tight! Don't Let The Bed Bugs Bite With Capitol Pest's Bed Bug Control Services
Remember when this was just a saying that parents said to their children when tucking them in at night? Well now there is a real possibility that at some point, these words may have actual meaning for some families. Here at Capitol Pest, we understand the importance of protecting children and families from the nightmare that can be caused by an infestation of bed bugs. Our staff Biochemist and two PhD Entomologists have developed a unique treatment process that is both safe and the most effective treatment available. As a result, we offer the best warranty in the business. We are constantly training our staff to be the best at bed bug control and prevention as well as all other home pest control services we provide.
Capitol Pest's ONE YEAR Renewable Bed Bug Control Treatment Warranty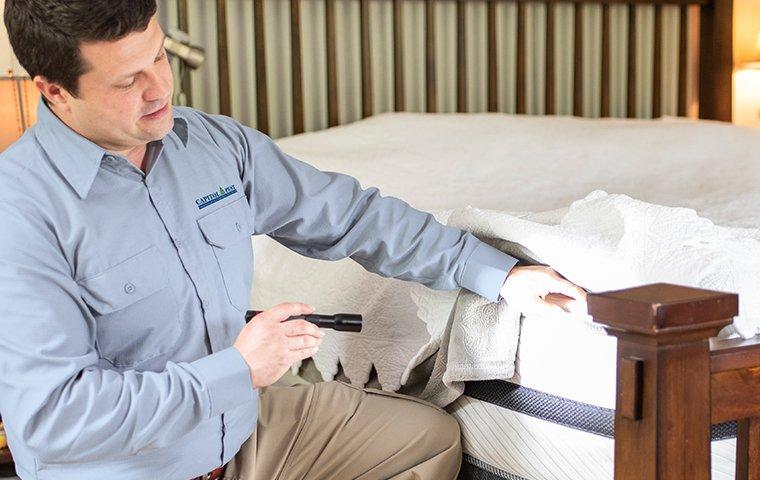 Capitol Pest is lucky to have a Zoologist, Bio-Chemist, and two PhD Entomologists on staff. After investigating and testing many treatment options, we have come up with what we feel is the best treatment method available. Our treatment method has been used in thousands of homes right here in the Washington, DC area and the results speak for themselves. We are so sure that we have the best treatment option available today that we include an unheard of full ONE YEAR Treatment Warranty with our treatment. That means that if the bed bugs come back for any reason or if you do a lot of travelling and bring more in, we will come back and treat again at no additional cost. This warranty will be renewable each year for a fee so you can be assured that if you ever bring them into your home again, you will be covered. We also provide you with a bed bug preparation sheet so you know how to prepare your home for your treatment.
Sign Up for a FREE Bed Bugs Inspection by a Capitol Pest Field Inspector
Not Sure Which Type Of Bed Bug Treatment May Be Right For You?
Here is an honest description of treatment methods and the pros and cons of each method:
Our Bed Bug Control Treatment Method Including A One-Year Warranty
Use of a specially formulated liquid insecticide mixed with a synergist to deliver a quick elimination of all stages (including eggs) of bed bugs within 48 hours with no known resistance.
This is used in all cracks and crevices including, the tufts and seams of the mattress and box spring; the bottom cloth of the box spring will be removed and the inside treated; all drawers and the insides of the nightstands and dressers; the tufts and seams and the bottom of couches, loveseats, and chairs; the baseboards throughout the home, the back of picture frames; and other areas as labeled.
Use of a fast-acting dust in cracks and crevices throughout the accessible areas of the home; dust around electrical outlets into the wall voids and pull back carpet edges to dust under the baseboards. This will kill bed bugs within 72 hours of coming into contact with the dust and sets a barrier to control the movement from one area to another.
Use of a vapor that is placed in sealed bags to treat items that cannot be otherwise treated with insecticides or any other method of treatment (heat/cold)
Placement of specially designed bed bug proof mattress encasements on the mattresses and box springs to eliminate the possibility of re-infestation.
Pros – readily available, effective if properly treated, most affordable method, insecticides have a 90–180 day residual, dusts a year or more (as long as they remain dry).

Cons – results are heavily dependent on applicator's diligence and the homeowner's cooperation with proper prep, especially in homes with lots of clutter; insecticide use may be objectionable to some; homeowners must be out of the home for 4 hours after service is completed; two treatments are necessary for the desired results.
Other Companies' Heat Treatment Methods
Thermal remediation involves introducing a high temperature (heat) to an area for a prolonged period of time, typically 5-7 hours, to reach a thermal "death" point. Generally, heat treatment professionals strive for a temperature of 120-140 degrees for a prolonged period of time to kill bed bugs and their eggs. It's not enough to simply raise the temperature, the air must be moved to achieve uniform saturation of the area. It may take many hours, sometimes in excess of 24 hours to uniformly saturate the treatment area.
With our experience, a traditional treatment as above is also necessary to keep bed bugs from running into adjacent rooms and to give the desired results. A heat treatment alone will not solve bed bug problems.
Pros – generally effective if performed by highly experienced persons; very little preparation required by the homeowner; one treatment is all that is necessary if done correctly; homeowners can reoccupy the home immediately after the treatment.

Cons – very expensive due to equipment, time, and needed manpower (2 people needed); no residual to prevent future infestations; does nothing to treat heat sensitive items that may need treatment; can be prohibited in some locales; requires highly experienced persons; risk of premature aging of some building materials; risk of fire sprinkler activation; requires removal of heat-sensitive foods and items; typically still requires a full insecticide treatment to achieve the desired results.
List Of Heat Sensitive Items
The property owner should take care to remove the following items from the treatment area whenever possible.
Persons, plants, and animals

Candles, wax, crayons, lipstick and other meltable cosmetics

Medicines and vitamins

Software, records, CD's, tapes (audio and video)

Mini and vertical blinds

Arts and craft items that are assembled with hot melt glue

Photographs in open areas

Remote controls (TV, VCR, garage door opener)

Aerosol cans, fire extinguishers, and other combustible items

Musical instruments (may detune due to expansion and contraction)

Cigarette lighters

Magnets (like those used to hold notes on refrigerators)

Fresh fruits and vegetables, chocolates, carbonated beverages, wines, liquors, vitamins, medicines, and artificial sweeteners. In lieu of removal, small items may be placed in a refrigerator.

Oil paintings, acrylics (art work), paintings and pictures

Antique furniture with finish or fragile glue points

Vinyl rain gutters

Computers (Towers)

Soft vinyl items

Vegetation near house should be trimmed back at least 12 inches where possible

Other (In evaluating the treatment area, the technician may discover additional items that should be removed.)
Not sure if you have an bed bug infestation? Learn how to identify a bed bug. Contact Capitol Pest today to set up your bed bug treatment or to ask how we can provide you with commercial pest control services in the Washington, D.C. area!